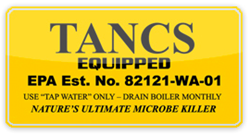 Don't be fooled by imitations. The yellow label tells you in a glance that your steam cleaner qualifies as a disinfection device for the EPA.
Vernon Hills, Illinois (PRWEB) September 14, 2013
LadybugSteamCleaners.com, a company on a mission to change the way people clean, announced today that consumers and businesses can purchase a refurbished or open box Ladybug steam vapor system for up to 50% off with same as new warranty and support.
The open box and refurbished Ladybug steam cleaners are available to walk-in customers who visit LadybugSteamCleaners.com's showroom in Vernon Hills, Illinois.
Online shoppers can Shop The Outlet 24 hours a day, seven days a week by visiting http://www.ladybugsteamcleaners.com/ladybug-steam-vapor-systems-refurbished-open-box-used.html.
Same-day shipping is free within the contiguous Unites States on orders of $49 or more.
"If you're on a budget, save your hard-earned money by visiting our outlet," says V. K. Dunlop of LadybugSteamCleaners.com. "The warranty is exactly the same as new. It's Ladybug's standard one year on parts and three years on the boiler. Models with TANCS® have an eight-year boiler warranty."
Ladybug is changing the way people clean with its revolutionary TANCS® technology, and, according to Dunlop, the Ladybug Tekno 2350 steam cleaner, which is their top seller, comes standard with TANCS®.
"The Tekno 2350 was designed and built in Italy by experienced technicians who are as passionate about building the finest steam vapor cleaners as you are in owning one," says Dunlop.
The Tekno features a pressure gauge for monitoring steam levels, a low water indicator light, and with Ladybug's patented TANCS® technology standard, it has been scientifically proven to achieve a greater kill rate in 3 seconds than a 20-minute exposure to bleach.
"When you unpack a Tekno 2350, you immediately notice the yellow sticker on one side that says TANCS® in bold letters," says Dunlop. "Don't be fooled by imitations. The yellow label tells you in a glance that your Tekno qualifies as a disinfection device for the U.S. Environmental Protection Agency (EPA)."
Located in Vernon Hills, Illinois, LadybugSteamCleaners.com is moving fast to educate consumers and businesses that finally, there's a feasible, environmentally friendly alternative to chemicals. For more information, call 1-877-840-2977. LadybugSteamCleaners.com is a proud member of the Safer Chemicals, Healthy Families coalition, a nationwide effort to protect families from toxic chemicals. To stay safe and avoid toxic chemicals, keep abreast of the latest news with LadybugSteamCleaners.com's Twitter account, @LadybugSteam.