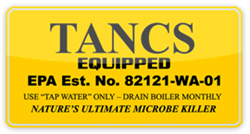 Steam cleaners with Ladybug's proprietary patented TANCS® technology qualify as disinfection devices for the EPA.
Vernon Hills, Illinois (PRWEB) August 23, 2013
LadybugSteamCleaners.com, an authorized dealer that offers Ladybug vapor steam cleaners online to consumers and businesses across the globe, and to walk-in customers that visit their Chicago-area showroom floor, announced today that it plans to actively market Ladybug vapor steam cleaners to bird owners.
"Your bird's cage is its castle, and your bird deserves the best," says V. K. Dunlop of LadybugSteamCleaner.com. "But never run to the market for your favorite household cleaner when the cage needs a good cleaning."
According to Dunlop, with their tiny lungs, birds cannot tolerate anything even vaguely toxic.
"By using a vapor steam cleaner to sanitize your pet's cage (including the bars, perches, and toys) you are helping your bird remain healthy and happy," says Dunlop. "Not only because you are cleaning the cage without the use of toxic chemicals, but also because vapor particles are so small (smaller than steam) that they can reach every nook and cranny of the cage, thereby minimizing your bird's risk of infection."
The Ladybug Tekno 2350 steam cleaner is the top selling steam vapor system at LadybugSteamCleaners.com this summer.
"The Tekno's durable construction, endless applications, and one of the best warranties in the industry, bolster Ladybug's claim to being the king of vapor steam cleaners," says Dunlop. "And with Ladybug's proprietary patented TANCS® technology standard, the Tekno qualifies as a disinfection device for the EPA."
According to Dunlop, in order to create the safest possible environment for your pet, you should not only clean the cage regularly but also sanitize it. This is true because there are a variety of bacteria that can potentially harm birds, and soap alone is not going to protect them.
Located in Vernon Hills, Illinois, LadybugSteamCleaners.com is moving fast to educate consumers and businesses that finally, there's a feasible, environmentally friendly alternative to chemicals. For more information, call 1-877-840-2977. LadybugSteamCleaners.com is a proud member of the Safer Chemicals, Healthy Families coalition, a nationwide effort to protect families from toxic chemicals. To stay safe and avoid toxic chemicals, keep abreast of the latest news with LadybugSteamCleaners.com's Twitter account, @LadybugSteam.