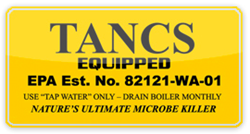 TANCS®-equipped vapor steam cleaners qualify as disinfection devices for the EPA.
Vernon Hills, Illinois (PRWEB) August 22, 2013
LadybugSteamCleaners.com, an authorized online dealer that offers Ladybug vapor steam cleaners online to consumers and businesses across the globe, announced today that it has extended its bonus accessory kit offer through the month of September.
Walk-in customers buying the top-selling Ladybug Tekno 2350 vapor steam cleaner on LadybugSteamCleaners.com' showroom floor, or shoppers ordering a Tekno online from LadybugSteamCleaners.com's website, receive a complimentary 12-pack of terry towels, a bottle of Ladybug's Formula 212 spot cleaner, and 2 filler pads—1 for the triangle brush and 1 for the rectangular floor brush. All at no extra charge!
Ladybug is the only steam cleaner brand on the market that offers the proprietary patented TANCS® technology. TANCS®-equipped steam cleaners are scientifically proven to achieve a greater kill rate in 3 seconds than a 20-minute exposure to bleach, to wipe out superbugs like MRSA and VRE with a level of performance that chemical disinfectants may never achieve, and to eradicate the NDM-1 strain of Klebsiella pneumoniae bacteria on a hard surface within 2 seconds.
"The Ladybug Tekno 2350 steam cleaner is our top selling steam vapor system," says V. K. Dunlop of LadybugSteamCleaner.com. "It's durable construction, endless applications, and one of the best warranties in the industry bolster Ladybug's claim to being the king of vapor steam cleaners. And with Ladybug's patented TANCS® technology standard, the Tekno qualifies as a disinfection device for the EPA."
For ultimate portability and tool storage, an optional trolley is available with the Ladybug Tekno 2350.
Located in Vernon Hills, Illinois, LadybugSteamCleaners.com is moving fast to educate consumers and businesses that finally, there's a feasible, environmentally friendly alternative to chemicals. For more information, call 1-877-840-2977. LadybugSteamCleaners.com is a proud member of the Safer Chemicals, Healthy Families coalition, a nationwide effort to protect families from toxic chemicals. To stay safe and avoid toxic chemicals, keep abreast of the latest news with LadybugSteamCleaners.com's Twitter account, @LadybugSteam.