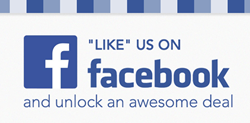 Like us and receive 25% off your next accessories order!
Vernon Hills, IL (PRWEB) August 30, 2013
LadybugSteamCleaners.com, a leading global marketer of vapor steam cleaners, announced today a promotional deal for their fans on Facebook.
"LadybugSteamCleaners.com is excited to announce a special promotional deal for our fans on Facebook," says V.K. Dunlop of LadybugSteamCleaners.com. "Like us and receive 25% off your next accessories order! Call 1-877-840-2977 and mention you're a fan! Our Facebook promo runs through September."
Using ordinary tap water, TANCS®-equipped vapor steam cleaners like the top-selling Ladybug Tekno 2350 with Ladybug's proprietary patented Thermo Accelerated Nano Crystal Sanitation technology (called TANCS®) is scientifically proven to produce better results than traditional disinfectants, qualifying the Tekno as a disinfection device for the U.S. Environmental Protection Agency (EPA Est. No. 82121-WA-01) and making it more suitable than traditional hard-surface disinfectants for many home and commercial settings.
"Many traditional disinfectants are highly toxic and contain potentially cancer-causing chemicals," says Dunlop. "Children are at greater risk because they play on floors, sprawl on flat surfaces, and put everything into their mouth."
The simplified water-only protocol of the Tekno 2350, which proudly displays a yellow sticker on one side that says TANCS® in bold letters, cleans, disinfects and deodorizes almost any surface—without chemicals.
"Don't be fooled by imitations," says Dunlop. "Ladybug is changing the way people clean with its revolutionary TANCS® technology. The yellow label tells you in a glance that your Ladybug qualifies as a disinfection device for the EPA."
Located in Vernon Hills, Illinois, is moving fast to educate consumers and businesses that finally, there's a feasible, environmentally friendly alternative to chemicals. For more information, call 1-877-840-2977. LadybugSteamCleaners.com is a proud member of the Safer Chemicals, Healthy Families coalition, a nationwide effort to protect families from toxic chemicals. To stay safe and avoid toxic chemicals, keep abreast of the latest news with LadybugSteamCleaners.com's Twitter account, @LadybugSteam.