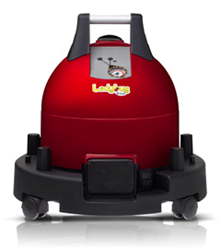 With leading-edge technology, Ladybug steam cleaners are more than eco-friendly. They also clean faster and flat-out better than most chemicals.
Vernon Hills, Illinois (PRWEB) November 06, 2013
LadybugSteamCleaners.com, a company whose goal is to make cleaning faster, safer and easier for people everywhere, announced today that it will extend its telephone hours this holiday season to help shoppers make the switch to green cleaning and vapor steam cleaners.
Beginning Thanksgiving Day, shoppers can reach a LadybugSteamCleaners.com live sales representative 7 days a week from 7:00 a.m. to 12:00 p.m. CST.
"It's almost time to start thinking about the holidays," says V. K. Dunlop of LadybugSteamCleaners.com. "And if you want to give more than a gift this season, give something that can promote good health at the same time. Give a Ladybug vapor steam cleaner."
According to Dunlop, there are over 82,000 chemicals currently used in the U.S. in everyday products, and only 200 of these have been tested for safety. Meanwhile breast cancer, autism, asthma, reproductive disorders and other health problems linked to chemicals are on the rise.
Dunlop uses shower cleaning as an example.
"Cleaning the bathroom shower with a chemical scrub product is one of the most dangerous jobs you do," she says. "You likely wear latex gloves, use a powerful cleaner with bleach, and keep the window open to avoid the fumes. Those fumes are hazardous to anyone who inhales them."
Part of the problem is that a many people looking to 'go green' have no idea where to start.
"That's why were extending our telephone hours," says Dunlop. "We're here to help people understand the benefits of cleaning without toxic household cleaning products. With leading-edge technology, Ladybug steam vapor systems are more than eco-friendly. They also clean faster and flat-out better than most chemicals."
Shoppers that don't know about vapor steam cleaners, and want to, can watch a Ladybug steam cleaner review recently posted on YouTube by clicking here: https://www.youtube.com/watch?v=7NyAk55YpRI.
Located in Vernon Hills, Illinois, LadybugSteamCleaners.com is moving fast to educate consumers and businesses that finally, there's a feasible, environmentally friendly alternative to chemicals. For more information, call 1-877-840-2977. LadybugSteamCleaners.com is a proud member of the Safer Chemicals, Healthy Families coalition, a nationwide effort to protect families from toxic chemicals. To stay safe and avoid toxic chemicals, keep abreast of the latest news with LadybugSteamCleaners.com's Facebook and Twitter accounts.