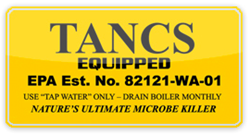 The yellow label tells you in a glance that the Tekno qualifies as a disinfection device for the EPA.
Vernon Hills, Illinois (PRWEB) September 25, 2013
LadybugSteamCleaners.com, recognized globally as a leader in the marketing of quality built vapor steam cleaners, announced today its intention to actively market to hotels a chemical-free vapor steam cleaner that qualifies as a disinfection device for the U.S. Environmental Protection Agency (EPA).
"The choice of hotel managers for durability and upkeep, the Tekno 2350 has it all, power, quality and price," says V. K. Dunlop of LadybugSteamCleaners.com. "Not just hotels, but businesses of all kinds are taking advantage of this new and innovative cleaning technology."
According to Dunlop, restaurant operators and supermarkets use the Tekno 2350 to sanitize food preparations surfaces, such as stovetops and hoods, countertops and cutting boards. It's perfect for hospital housekeeping staffs to clean wheelchairs, operating rooms, bed rails and gurneys, which are difficult to clean and disinfect quickly between each patient.
The Ladybug Tekno 2350 vapor steam cleaner is ideal to maintain school restrooms, which many students avoid because they consider them a health threat. Contractors knowing that exposure to mold can cause a variety of health effects use the Tekno 2350 for mold remediation. Airlines use the Tekno 2350 for aircraft interiors cleaning, deodorization and sanitization. Manufacturers use the Tekno 2350 to clean and sanitize processing equipment. The uses are endless.
Using ordinary tap water, the Ladybug Tekno 2350 with Ladybug's proprietary patented Thermo Accelerated Nano Crystal Sanitation technology (called TANCS®) is scientifically proven to produce better results than traditional disinfectants, qualifying the Tekno as a disinfection device for the EPA and making it more suitable than traditional hard-surface disinfectants for many commercial settings like hotels.
According to Dunlop, many traditional disinfectants are highly toxic and contain potentially cancer-causing chemicals that threaten the health of hotel housekeepers. The simplified water-only protocol of the Tekno 2350 cleans, disinfects and deodorizes almost any surface without chemicals. This is significant because according to the Integrated Benefits Institute exposure to cleaning chemicals is the largest contributing risk factor for occupational illness and injury.
"The Ladybug Tekno 2350 is a double plus," says Dunlop. "Cleaning personnel using the Tekno, in addition to sparing their lungs from toxic chemical fumes, will spend less time squatting, stooping and scrubbing on their hands and knees—which helps increase productivity and reduce workman's comp claims."
TANCS®-equipped vapor steam cleaners like the Tekno 2350 proudly display a label that says "EPA Est. No. 82121-WA-01" in bold letters. The yellow label tells you in a glance that the Tekno qualifies as a disinfection device for the EPA.
Located in Vernon Hills, Illinois, LadybugSteamCleaners.com is moving fast to educate consumers and businesses that finally, there's a feasible, environmentally friendly alternative to chemicals. For more information, call 1-877-840-2977. LadybugSteamCleaners.com is a proud member of the Safer Chemicals, Healthy Families coalition, a nationwide effort to protect families from toxic chemicals. To stay safe and avoid toxic chemicals, keep abreast of the latest news with LadybugSteamCleaners.com's Twitter account, @LadybugSteam.