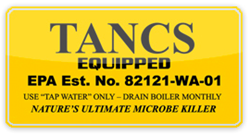 The yellow sticker tells you in a glance that your Ladybug qualifies as a disinfection device for the EPA.
Vernon Hills, Illinois (PRWEB) October 21, 2013
LadybugSteamCleaners.com, an authorized dealer that sells Ladybug vapor steam cleaners online and to walk-in customers who visit their Chicago-area showroom, announced today that it has stocked a wallpaper scraper for use with certain Ladybug vapor steam cleaners.
"Our wallpaper scraper is designed for us with the affordable Ladybug 2150 vapor steam cleaner, but also attaches to the nozzle of the Ladybug 2200S vapor steam cleaner and the Ladybug XL2300 vapor steam cleaner," says V. K. Dunlop of LadybugSteamCleaner.com.
The convenient wallpaper scraper lets users scrape and clean walls at the same time. It easily looses the glue of wallpaper, making removal easier than using a traditional razor scraper.
According to Dunlop, for those on a budget, the affordable Ladybug 2150 steam vapor system makes cleaning fast and fun without breaking the bank.
"But if you are looking for a system that provides the absolute highest level of cleanliness, for a little more money, there are other Ladybug models that offer TANCS®," says Dunlop. "A TANCS®-equipped steam cleaner not only qualifies as a disinfection device for the U.S. Environmental Protection Agency, it comes with an 8-year boiler warranty."
When you unpack a TANCS®-equipped steam vapor system you immediately notice the yellow sticker on one side that says "EPA Est. No. 82121-WA-01" in bold letters. The yellow sticker tells you in a glance that your Ladybug qualifies as a disinfection device for the EPA.
Located in Vernon Hills, Illinois, LadybugSteamCleaners.com is moving fast to educate consumers and businesses that finally, there's a feasible, environmentally friendly alternative to chemicals. For more information, call 1-877-840-2977. LadybugSteamCleaners.com is a proud member of the Safer Chemicals, Healthy Families coalition, a nationwide effort to protect families from toxic chemicals. To stay safe and avoid toxic chemicals, keep abreast of the latest news with LadybugSteamCleaners.com's Twitter account, @LadybugSteam.