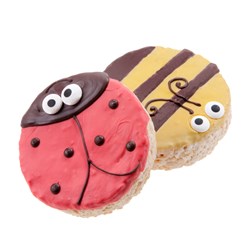 I've been told that our Colossal Crispies should come with a warning label: they're habit forming! - Daria Artem, Chief Confectionery Officer Lady Fortunes Inc
Los Angeles, CA (PRWEB) August 29, 2013
Lady Fortunes Inc, a leading manufacturer and innovator of cookie and candy gifts, gift baskets and bouquets, is delighted to announce their new Everyday and Holiday-themed Crispy Rice Treats: Colossal Crispies.
"Expertly hand crafted and decorated Crispy Rice Treats are a unique way to make your day a little sweeter, " said Daria Artem, Chief Confectionery Officer and Cookie Creator at Lady Fortunes Inc. "With Lady Fortunes Colossal Crispies you can send a gift that is always in good taste and will be sure to make an impression that 'sticks'!"
Sticky and sweet, these Colossal Crispies are hand crafted from freshly made Crispy Rice Cereal, Butter, Kosher Marshmallow Fluff, Bourbon Vanilla, and meticulously decorated by hand in an array of white chocolate tinted in a rainbow of edible bright colors. Designs are first sketched out by the company's Head Art Person- Heeda Waller. She then works with the Head Cookie Artists and Designers, Carmen Ruiz and Leslie Jensen who together work to translate the paper art to delectable confectionery versions.
The Crispy Rice Treats are made in small batches and pressed into copper cookie cutters to yield all kinds of different shapes- from simple circles to santa faces and birthday cakes. They are then dipped and decorate using a final style sheet which includes the specific tint on the white chocolate- from bright yellows and purples to pastel pinks and blues.
"We like to think of our Colossal Crispies as a blank 'Crispy Canvas'- all ready to dip and decorate!" said Leslie Jensen who has been with the company for 2 years. "We dress them up and decorate them so they look irresistibly cute- you hate to eat 'em but you can't help yourself because they are sooo good!"
The Colossal Crispies are a whopping 6-8 ounces in weight each serving 3-4 people. Each treat is individually wrapped in clear cello and packaging options include bags with bows, acrylic totes and just individually wrapped and ready to eat.
The initial offering features Halloween, Thanksgiving, Christmas, Hanukkah, and Valentine designs as well as Special Occasions and Everyday Designs which include a Happy Face, Birthday Cakes and Balloons.
Since being added on the http://www.LadyFortunes.com webiste in August 2013, there has been an overwhelming response to the product from resellers and stores expressing an interest to carry these gargantuan goodies online and in stores nationwide. A major upscale retailer has already placed a firm PO for the products for upcoming Halloween sales as well as a major online giant who has just committed to carry these on their website.
About Lady Fortunes:
Since 2004, Lady Fortunes has been a leading manufacturer of Gourmet Cookies, Confections and Gifts. Lady Fortunes' desserts have been enjoyed in the White House, at events at the Library of Congress, at the Emmy Awards®, during Oscar® after-parties, on the Ellen Degeneres Show, The Today Show, and have been featured in magazines from InStyle to Better Homes and Gardens. Lady Fortunes' products are available online and through upscale retailers including Dylan's Candy Bar, Macy's, Nordstrom, Neiman Marcus and Henri Bendel.
For more information on custom cookies and confections from Lady Fortunes, or custom-order your Colossal Crispies visit http://www.LadyFortunes.com.