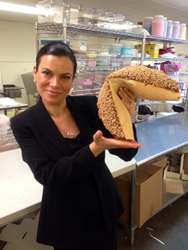 Los Angeles, CA (PRWEB) June 05, 2014
Giant Fortune Cookies have been around for decades, but Lady Fortunes Inc has been the Nation's premier manufacturer and source since 2004. To date, the largest "Giant" Fortune Cookie has boasted a size of 6" wide by 4.5" tall containing an 11" fortune inside and weighing in at under 1 lb once dipped and decorated in chocolates and toppings.
Confectionery Officer and owner Daria Artem has spent hundreds of hours attempting to create the "World's Most Gigantic Fortune Cookie"- a feat which many of her contemporaries were skeptical could ever be accomplished. "We called it 'Project Create The World's Most Gigantic Fortune Cookie'," reminisces Carrie Dunlap, office manager at the company. "Daria was obsessed with the idea of creating a cookie that was truly larger than life. It was her pipe dream! And we all laughed until the day we saw it with our own eyes".
Spanning a whopping 11" in width, over 7" in height and 10" in depth, The Super Giant Fortune Cookie is about to enter the Gourmet Cookie scene in a BIG, BIG way, dwarfing its confectionery sibling, the Giant Fortune Cookie. This heavyweight treat weighs between 1.25 lbs to almost 2lbs depending on how it is dipped and decorated. It is bigger than an average person's head and promises to earn a jaw drop wherever it goes.
It all started when Daria Artem sent a Giant Fortune Cookie to a prominent magazine editor with the hopes of making a GIANT impression. "The editor I sent my cookie to didn't call me back, and when i finally got a hold of her, she chastised me for not having lived up to my promised of sending her a 'true' Giant Fortune Cookie," Daria Artem says. "Since then, I have made it a mission to come up with something that even the most seasoned of editors would find impressive: a SUPER Giant Fortune Cookie." That was 10 years ago when Artem vied for a coveted spot in a major Holiday Gift Guide.
"You fall but learn to get right back up- and my only redemption was to come up with a Fortune Cookie that would be so GIGANTIC it would undeniably live up to its reputation!" Daria said.
After years of trial and error, Daria discovered the secret to folding and forming the enormous cookie without collapsing on itself due to its enormous size and weight. "It was completely by accident and all I heard was her screaming 'I got it! I got it!'" says a factory employee. "We were all so happy for her. And for us too! We could stop eating all her mistakes!"
Daria Artem has submitted an application on behalf of her company Lady Fortunes Inc with the Guinness Book of World Records to enter the World Record for The Most Gigantic Fortune Cookie. Results of her submission will take weeks to months, but Daria Artem and her company feel confident that given the opportunity to set the record, the humble fortune cookie will gain worldwide attention in a truly GIGANTIC way.