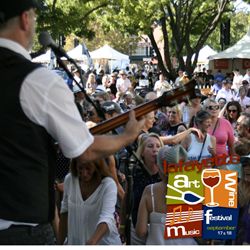 Lafayette Art and Wine Festival is big time fun with a hometown feel -- BART-able, too!
Lafayette, CA (PRWEB) September 06, 2016
Don't miss the East Bay's best end of summer party! Lafayette Art and Wine Festival is big time fun with a hometown feel.
Lafayette Art & Wine Festival 2016 will be held on Saturday, September 17 (10am-7pm) and Sunday, September 18 (10am-6pm) in Lafayette, CA.
Lafayette Art & Wine Festival, now in its 21st year, is consistently voted by readers of Diablo Magazine as, "Best of the East Bay."
Watch the official festival video to see why this popular regional event attracts nearly four-times Lafayette's 24,000-resident population during Festival weekend each September: http://youtu.be/pIJGi1VIomo
Why is Lafayette Art & Wine Festival so popular? Here are the 8 top reasons:
1. Location: The Festival is held in the heart of beautiful downtown Lafayette, just steps from the Lafayette BART station, near bike trails (complimentary valet bike parking provided), 2 blocks off Hwy 24, and an easy walk/shuttle from complimentary Festival parking. Take BART and you're there!
2. Continuous Music & Dancing – with no cover charge: 2 Days. 4 Stages. Room to dance to familiar tunes played by 20 of the Bay Area's best headliner cover bands. The 2016 line-up includes The Spazmatics, Evolution, SuperHuey, Life in the Fast Lane, Other People's Money, Queens & Thieves, Zebop!, Extra Large, East Bay Mudd, Lumberyard, Savannah Blu, Long Train Runnin', Bay Bridge Beat, Bob Athayde, Juke Joint, The Ripplers, Dominant 7, and Red House Jam.
View the 2016 Lafayette Art & Wine Festival entertainment schedule at http://www.lafayettefestival.com/music
3. Unique Wine & Beer Offerings at The Party Within The Party: Popular wines, beers and ales are served throughout the Festival footprint, but the real action for connoisseurs happens in the Premium Wine & Craft Beer Pavilion, where there are selections of high-end wines and craft beer that most people never get a chance to taste.
4. Food: Choice is everywhere, including Lafayette's restaurant row fare. More than 20 of Lafayette's top restaurants are in the Festival's footprint, plus there are many other festival food vendors and food trucks.
5. Original Fine Arts & Crafts: People from all over the Bay Area come to shop at the Festival's 260+ local and regional artists' booths, including the "Local Artists Alley," which showcases Lafayette, Moraga, and Orinda fine artists.
6. Dog Friendly: People move to Lafayette for the family friendly lifestyle, so it's no surprise that this is a family friendly festival, starting with a large KidZone, Kids' Stage, and (new for 2016) a secondary KidZone. There is also plenty for family dogs to see and smell, as well as easy access to Festival water bowls.
7. Budget Friendly: This event raises funds that support the Lafayette Chamber's many programs, Lafayette Partners in Education ("LPIE"), and other local non-profits, but attendees don't have to spend any money. The Lafayette Festival Experience offers many things that cost nothing -- complimentary admission (including access to music stages), complimentary parking, easy shuttle service from Festival Parking, and complimentary secure bike valet.
8. New for 2016: Lafayette Festival Sweepstakes! Enter to win great prizes that include VIP Festival Parking and JetSuiteX Roundtrip Airplane Tickets. No purchase necessary. Details: http://lafayettefestival.com/sweepstakes
Complete Lafayette Art & Wine Festival details: http://www.lafayettefestival.com.
About The Lafayette Art & Wine Festival Organizers and Sponsors
1. The Lafayette Art & Wine Festival is an annual event that promotes Lafayette's Downtown and raises money for local education, the Lafayette Chamber and other local non-profit organizations.
2. The event is produced by the Lafayette Chamber in partnership with the City of Lafayette and Eckerstrom Productions.
3. The 2016 Festival Sponsors include Presenting Sponsors Sungevity and Xfinity, and Festival Sponsors BMW Concord, La Fiesta Square, Mechanics Bank and Yelp.
Other sponsors include Cobain Orthodontics, MCE Clean Energy, Diablo Foods, JetSuiteX, Merrill Gardens, Sutter Health - Alta Bates Summit Medical Center, BART, Oakwood Athletic Club, Lafayette Rotary Club of Lafayette, Lamorinda Sunrise Rotary Club, EBMUD, Cresco Equipment Rentals, Special Events, Red House Studios, Whole Foods, Wine Thieves, Chevron, Lafayette Park Hotel & Spa, MinuteMan Press Lafayette, Lucas Paving, C&M Party Props, Golden Road, Lamorinda CERT, Central Self Storage, Bank of the West, Stella Artois, Backyard Carnivals, AMR, Sequoia Signs, Lamorinda Theatre, and Republic Services.
Media sponsors include 92.1 KKDV, Diablo Magazine, Lamorinda Presents, Alice@93.7, Lamorinda Weekly, and Lamorinda Web.
Special appreciation goes out to Lafayette Chamber's Premier Members: Diablo Foods, Oakwood Athletic Club, Douglah Designs, Inc, Mechanics Bank, and Wells Fargo.