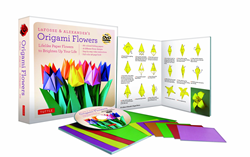 ...the DVD makes folding and shaping 3D origami flower blossoms that much easier.
North Clarendon, VT (PRWEB) June 16, 2014
Tuttle Publishing is please to announce authors and co-founders of the internationally recognized Origamido Studio, Michael G. LaFosse and Richard L. Alexander will release their newest origami kit, LaFosse & Alexander's Origami Flowers Kit worldwide on July 15.
Origami Flowers Kit is the result of LaFosse & Alexander's 3-year stay with their "Origami Do Experience" Waikiki exhibition in Hawaii, inspired by the lush foliage and brilliant, fragrant blossoms. "Folders have always loved our previous Tuttle Origami Flowers kit and kept asking for new designs. During our stay in Hawaii, our mountain hikes and visits to several amazing Hawaiian gardens inspired us to create what I consider a remarkable new set of classic designs, such as our Ohana Orchid, a Tulip for Betty, a Rose for Irene, and a new Plumeria blossom," said Alexander.
The kit contains 180 sheets of origami paper in brilliant colors and a full-color 96-page instruction book with clear diagrams and photos. Projects range from simple and flat (great for making cheerful greeting cards), to the more challenging, sculptural blooms that make stunning arrangements, bouquets, and displays. As an added bonus, included in the kit is an instructional DVD where the authors demonstrate how to fold each project. "The instructional DVD in our recent titles Origami Butterflies, Dollar Origami, Geometric Origami and Planes for Brains was very well received and it made us realize how important video has become to the new generation of folders tackling any 3D origami projects," said LaFosse. "The booklet coupled with the DVD makes folding and shaping 3D origami flower blossoms that much easier," added Alexander. Origami Flowers Kit can be pre-ordered online or in bookstores prior to its release.
About the Authors
Origami master Michael G. LaFosse is co-founder of the Origamido Studio, a learning center and design studio dedicated to the art of origami, and the only place in the world specializing in hand papermaking for the origami artist. LaFosse was prominently featured in the recent Peabody Award-winning documentary, Between the Folds.
Teacher Richard L. Alexander co-founded the Origamido Studio, where he conducts hand papermaking workshops for artists. Together, Alexander and LaFosse have created dozens of origami exhibitions, and more than seventy books, kits, and videos about paper and paper arts.
About Tuttle Publishing
Established in 1948 by Charles Egbert Tuttle Jr. in Rutland, Vermont and Tokyo, Japan, Tuttle Publishing is the premier publisher of English language books on Asian culture. Today, Tuttle maintains an active offering of books on a wide range of topics, including Asian culture, Asian literature, Asian architecture, Eastern spirituality, gardening, cooking, martial arts, crafts, travel, health and wellness, and fine art for a worldwide audience. For more information, visit http://tuttlepublishing.com.