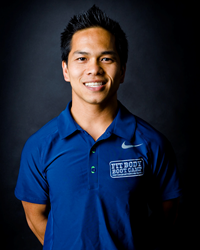 I love helping people achieve their weight loss goals.
La Habra, Calif. (PRWEB) June 05, 2015
Obesity rates among the children and teens of La Habra, Calif. are higher than that of adults living within the community. According to Tien Do, owner of the La Habra and Cypress Fit Body Boot Camps, this statistic is a result of poor fitness and nutrition education among parents.
To combat these statistics and reverse the deterioration of the area's health, Do and his boot camps will be holding a 1000-pound weight loss challenge. The 6-week challenge begins July 13 and will offer community members free boot camp sessions until August 22. La Habra Fit Body Boot Camp, located at 305 E. Imperial Hwy, La Habra, CA. 90630, will be hosting the Boot Camp sessions.
Do has designed the boot camp fitness program to help participants lose at least 20 pounds or 10% of their current weight in just 6 weeks. The boot camp sessions will also include nutritional lessons intended to assist families in the preparation of better and healthier meals. Do hopes the promotion of a new, healthier lifestyle will facilitate weight-loss and healthy living among children throughout the community.
"The most crucial element to burning fat and losing weight is nutrition," said Do. "Parents need to begin instilling these healthy habits within their children if the current situation in this community is going to change.
"If we fail to tackle this problem now we'll have an entire generation of Americans believing that obesity is normal and that being overweight isn't a major health risk. As the community's resident fitness expert it's not just my responsibility to ensure that people hear these lessons but also my duty to help them any way I can— that's why I created a 6-week program that's open to anyone."
In an attempt to encourage residents to join the boot camp classes and to foster more health and fitness education in the La Habra community, Do has vowed to donate $1 to the La Habra Community Collaborative for every pound lost during the challenge.
The Collaborative facilitates multiple events and initiatives that encourage healthier living within the La Habra community, including campaigns that curb juvenile crime, teen pregnancy, and childhood obesity. Because these outreach programs align with the La Habra Fit Body Boot Camp's mission to change lives through fitness, Do decided to partner with the organization during his 1,000 pound challenge.
"I've been a personal trainer for 10 years," said Do, "and I love helping people achieve their weight loss goals. But living a healthy lifestyle is about so much more: it's the confidence, the energy, and the boost in self-esteem that really changes people's lives for the better."
About La Habra and Cypress Fit Body Boot Camps:
La Habra and Cypress Fit Body Boot Camps are part of the Fit Body Boot Camp family of indoor fitness boot camps, whose global goal is to engage 20% of the world's population in a healthy and fit lifestyle by the year 2020. La Habra and Cypress Fit Body Boot Camps are owned and operated by Tien Do. Do is committed to helping members of the Orange County community set and accomplish their own health and fitness goals.
For more information about the La Habra and Cypress Fit Body Boot Camps, please call:
(714) 995-8663
Visit their website at:
http://www.fitbodybootcamp.com/lahabrafitnessbootcamp/
Or their Facebook page at:
https://www.facebook.com/lahabrabootcamp