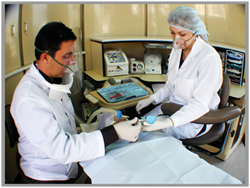 If you want to get health care costs down, ban the dental mercury filling.
Los Angeles, CA (PRWEB) April 21, 2015
The silver dental filling, comprised of 50% mercury, the second most toxic element on this planet, is no longer considered to be the safe filling of choice by dentists all over the world. Because of its toxic nature, removal of the dental filling requires strict protocols so the patient, doctor, and assistants are not put at further risk. In response to the public demand of replacement of the silver dental filling, Dr. James Rota, DDS, will be presenting a free lecture, "Behind the Smile: Poisons in Your Mouth - The Mercury Dental Filling and Detoxification,'' on May 2, 11:00 am – 1:00 pm.
Most people are not aware their amalgam fillings may contain as much mercury as a thermometer. Mercury is a powerful poison and vaporizes easily at room temperature. Inhaled mercury vapor is readily absorbed into the bloodstream. "Mercury greatly undermines the immune system's ability to defend itself against the daily assaults of bacteria, viruses, and toxins, making us more susceptible to diseases and breakdown of the body, including the neurological system," says Dr. James Rota.
Norway, Denmark, and Sweden have banned the use of mercury in dental fillings, and the European Union also released a statement requesting for the ban of the same material. Recently, a United Nations Treaty on Mercury requires countries to phase down dental amalgam. Consumer groups and dental professional groups are requesting the FDA to do the same.
Dr. James Rota is a biological dentist and former UCLA Assistant Professor, who has devoted his life and practice to the education of bio-compatible dentistry. He was instrumental in developing the protocols for safe mercury removal in existence today and is a pioneer in biological dentistry.
The heat of the dentist drill will further vaporize the mercury in the filling, so protocols have been developed by the IAOMT, International Academy of Oral Medicine and Toxicology, to safely remove the dental amalgam. For more information about the protocols developed by the IAOMT, visit TALKInternational.com, a comprehensive resource for issues involving mercury toxicity.
Dr. Rota further states, "To prevent mercury exposure, I recommend finding a biologically-trained dentist that adheres to the IAOMT protocols in mercury filling removal." He also suggests that patients should use a checklist of questions for the dentist about following amalgam removal protocols, which may be found at TALKInternational.com.
Dr. Rota also promotes the team approach in helping patients detoxify their body by working closely with supportive health service practitioners, including holistic medical doctors, that are able to evaluate and address the individual needs of patients with varying degrees of toxicity and their ability to handle the process of detoxification. His office is also supportive of healthy family dentistry, educating parents in making sound long-term choices for themselves and their children.
At the seminar, we will also be showing an excerpt of the upcoming documentary, "You Put What in My Mouth?" This compelling film about dental mercury exposure to patients, dentists, and their staff will be released in Los Angeles in the October.
The public and health practitioners are encouraged to attend Dr. Rota's free lecture on Saturday, May 2, 2015, 11:00 am - 1:00 pm at Brentwood Branch Public Library, 11820 San Vicente Blvd, Los Angeles, CA 90049.
For additional information about the free seminar, biological dentistry, contact Dori Rota or visit http://www.LAHolisticDentistry.com.
About Dr. James Rota:
Dr. Rota and his associates offer holistic and biological dentistry in a caring and supportive environment, known as LA Holistic Dentistry. During his fifty years in Dentistry, Dr. Rota has been a UCLA Assistant Professor and a pioneer in Dental Ergonomics, developing many work simplification standards now practiced by dentists as common procedure, including Four-Handed Dentistry. He also helped develop the protocols for safe mercury removal from the mouth, which are commonplace in Biological Dentistry today. Dr. Rota's office is located at LA Holistic Dentistry, 10850 Wilshire Boulevard, Suite 330, Los Angeles, CA 90024.