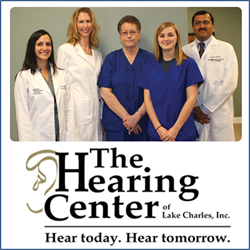 Lake Charles, LA (PRWEB) November 14, 2013
Researching hearing aids can be difficult for the novice buyer because there are numerous distinct types and numerous different abbreviations used to refer to them.To clear up some of the frustration, The Hearing Center of Lake Charles released a quick reference guide to popular hearing aid designs and terminology on their site titled Understanding the Large Number of Abbreviations Commonly Used to Identify Hearing Aids Models and Styles.
The guide is organized from smallest to largest and includes the following major hearing aid styles:
Invisible in Canal (IIC)
Deep Canal (DC)
Completely in Canal (CIC)
In the Canal (ITC)
In the Ear (ITE)
Receiver In the Ear (RIE or RITE)
Open Ear / Open Fit
Behind the Ear (BTE)
A side-by-side listing of all the major hearing aid types immediately demonstrates why consumers often have trouble making sense of the similar names and abbreviations. The Hearing Center of Lake Charles hopes that the quick reference guide will help shed light on some of the important differences between the various styles of hearing aids. Having said that, the Audiologists at The Hearing Center of Lake Charles encourage any person considering a hearing aid purchase not to depend on online research alone, but rather to schedule an appointment with a specialist. The expert can suggest specific types and models in line with the results of your hearing test and a set of lifestyle questions about where you intend to wear your hearing aid and the sorts of hobbies you routinely take part in.
About Dr. Ram Nileshwar
Dr. Nileshwar has been a practicing audiologist in Lake Charles for over 29 years. He has been with The Hearing Center of Lake Charles since its inception in 1987. He received his Bachelor's degree in Audiology and Speech Therapy from the University of Bombay, India, his Master's degree in Audiology from Western Michigan University, and his Doctor of Audiology degree (Au.D.) from Arizona School of Health Sciences of A.T. Still University. Dr. Nileshwar holds the Certificate of Clinical Competence in Audiology from the American Speech-Language-Hearing Association and is a fellow of the American Academy of Audiology. He specializes in hearing rehabilitation, including the fitting of both conventional and advanced digital hearing devices. He has expertise in diagnostic audiology, including the evaluation and management of disorders of hearing and balance.
About The Hearing Center of Lake Charles, Inc.:
The Hearing Center of Lake Charles, Inc. has provided hearing aids in Lake Charles, LA and its surrounding communities since 1987. The company offers a full range of diagnostic and preventative hearing healthcare professional services, including hearing aid screening, evaluations, hearing aids sales and rehabilitative and preventative counseling. The staff is dedicated to keeping abreast of the latest improvements in technological advancements in the hearing industry and is committed to offering the most current options to the patients.
Contact:
Dr. Ram Nileshwar
hearingmatters.biz
The Hearing Center of Lake Charles, Inc.
1919A Southwood Drive
Lake Charles, LA 70605
(337) 214-4422
The Hearing Center of Lake Charles, Inc.
801 S Pine St.
DeRidder, LA 70634
(337) 214-4422