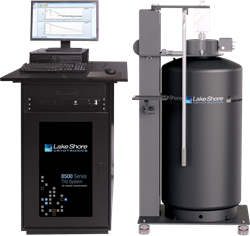 Lake Shore will also be discussing its most recent efforts toward developing a THz-frequency, on-wafer contact probing solution for cryogenic probe stations.
Columbus, OH (PRWEB) September 11, 2014
Lake Shore Cryotronics, a leading innovator in solutions for measurement over a wide range of temperature and magnetic field conditions, announced today that it will be exhibiting solutions for high-frequency material characterization at the 39th International Conference on Infrared, Millimeter, and Terahertz Waves (IRMMW-THz), Sept. 14–19, in Tucson, Ariz. Lake Shore specifically will discuss its fully integrated Model 8501 THz system for material characterization and its work toward developing THz-frequency solutions for cryogenic probe station-based measurement.
A non-contact spectroscopic platform, the Model 8501 enables researchers to more easily study research-scale electronic and magnetic materials with resonances in the THz regime. It uses uniquely designed continuous wave THz (CW-THz) emitter and detector components, supporting the ability to measure at 200 GHz to 1.5 THz frequencies and spectral resolution of better than 500 MHz.
Because the system includes a high-field cryostat and superconducting magnet, material responses can be measured across a range of temperatures and field strengths. These capabilities benefit research of materials at low temperatures at an early stage, when high magnetic fields (up to 9 T) may be required.
The Model 8501 system also includes intuitive management and analysis software, enabling quick setup of measurement profiles, automated measurement runs and real-time visualization of collected data. To see a demo of the software, IRMMW-THz attendees can stop by Lake Shore's booth (#14). Also during the conference, Lake Shore will be conducting a poster session relating to field- and temperature-dependent thin film CW-THz characterization. This session will occur Thursday, Sept. 18, from 5:30 to 7 p.m. in the South Ballroom.
Separate from its THz material characterization solution, Lake Shore will also be discussing its most recent efforts toward developing a THz-frequency, on-wafer contact probing solution for cryogenic probe stations. This initiative is a collaboration of Lake Shore with several companies and university researchers. The goal is to enable high-speed device probing and performance measurements at variable temperatures and magnetic fields for next-generation electronics R&D. Conference attendees can learn more about this industry/university collaboration and see a prototype of Lake Shore's cryogenic THz probe arm assembly by visiting the Lake Shore booth.
The company will also answer questions about its complete line of industry-leading cryogenic probe stations during the conference. These platforms enable non-destructive probing of materials and test devices as a function of temperature and field, whether for the study of electrical, magneto-transport, DC, RF or microwave properties. They are particularly useful for carbon-based nanotube (CNT), graphene, MEMS, gallium-nitride (GaN), silicon-germanium (SiGe), superconducting device and organic semiconductor research.
For more information about Lake Shore probe stations, as well as the company's entire product selection, visit http://www.lakeshore.com.
About Lake Shore Cryotronics, Inc.
Supporting advanced research since 1968, Lake Shore (http://www.lakeshore.com) is a leading innovator in measurement and control solutions for materials characterization under extreme temperature and magnetic field conditions. High-performance product solutions from Lake Shore include cryogenic temperature sensors and instrumentation, magnetic test and measurement systems, probe stations, and precision materials characterizations systems that explore the electronic and magnetic properties of next-generation materials. Lake Shore serves an international base of research customers at leading university, government, aerospace, and commercial research institutions and is supported by a global network of sales and service facilities.