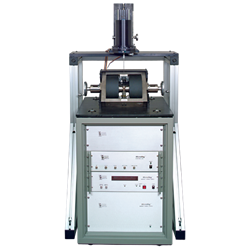 MicroMag™ VSM and AGM systems are arguably the standard for FORC measurements because of their measurement speed.
Columbus, Ohio (PRWEB) January 15, 2015
Lake Shore Cryotronics, a leading innovator in solutions for measurement under variable temperature and magnetic field conditions, will present its work on first-order-reversal-curve (FORC) analysis of ferrite permanent magnets at next week's Magnetics 2015 conference in Orlando, Fla. Also at the Jan. 21–22 conference, Lake Shore will be discussing its full range of magnetic measurement solutions for research and manufacturing environments.
In the presentation, Lake Shore Senior Scientist Brad Dodrill will explain how FORCs are used to evaluate interaction fields and distinguish between multiple phases in ferrite-based permanent magnets and recording media. Dodrill's presentation will take place Wednesday, Jan. 21 at 11:25 a.m.
Lake Shore will be available to answer questions about their vibrating sample magnetometer (VSM) and alternating gradient magnetometer (AGM) systems, including its MicroMag™ VSM and AGM systems, which are arguably the standard for FORC measurements because of their measurement speed.
Other magnetic measurement products from Lake Shore include a complete line of benchtop and hand-held gaussmeters, fluxmeters, Hall probes, and Helmholtz and search coils. Lake Shore gaussmeters have been used in prominent magnetics research, such as MIT's nuclear fusion program, as well as by manufacturers who produce magnets and magnetic assemblies that must hold to tight tolerances.
Lake Shore magnetic measurement instruments can be used for a wide range of applications, such as to:

validate performance of solenoids
map a magnetic field shape for a component or assembly
measure fringe fields or residual fields
sort tested products into groups according to magnetic strength and other characteristics
Accurate testing, when done early in the manufacturing or assembly process, can help companies avoid costly rework at later stages of production.
For more information, visit booth 517 at the conference or http://www.lakeshore.com.
About Lake Shore Cryotronics, Inc.
Supporting advanced research since 1968, Lake Shore (http://www.lakeshore.com) is a leading innovator in measurement and control solutions for materials characterization under extreme temperature and magnetic field conditions. High-performance product solutions from Lake Shore include cryogenic temperature sensors and instrumentation, magnetic test and measurement instruments, probe stations, and precision materials characterizations systems that explore the electronic and magnetic properties of next-generation materials. Lake Shore serves an international base of research customers at leading university, government, aerospace, and commercial research institutions and is supported by a global network of sales and service facilities.