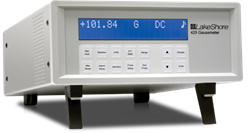 The new Lake Shore 7400-S Series VSMs offer a wide temperature range (4.2 K to 1273 K), up to 3.42 T field strengths and support for automated FORC data acquisition.
Columbus, Ohio (PRWEB) January 14, 2016
Lake Shore Cryotronics, a leading innovator in solutions for measurement over a wide range of temperature and magnetic field conditions, will discuss a range of magnetic material characterization, measurement and test solutions at next week's Magnetics 2016 conference in Jacksonville, Fla.
At the conference, Lake Shore Senior Scientist Brad Dodrill will present research on the use of high-temperature first-order-reversal-curve (FORC) analysis for ferrite-based magnetic materials including fine micron or nanoscale magnetic particles. His research, co-authored with Paul Ohodnicki of the U.S. National Energy Technology Laboratory, focuses specifically on hard (e.g., Sr-ferrite, BaSr, NdFeB) and soft (e.g., CoFe-SiO2, FeCo-based nanocrystalline nanocomposite) magnetic materials.
FORC measurements are commonly obtained using magnetometer systems such as VSMs (vibrating sample magnetometers) or AGMs (alternating gradient magnetometers). They provide insights into the distribution of switching and interaction fields in a broad array of magnetic materials, revealing information not obtainable from the measurement of a major hysteresis loop alone.
During the conference exhibit, representatives of the company will be on hand in Booth 423 to answer questions about the new Lake Shore 7400-S Series VSMs, which offer a wide temperature range (4.2 K to 1273 K), up to 3.42 T field strengths and support for automated FORC data acquisition (when using a free downloadable utility from Lake Shore). They will also present Lake Shore MicroMag™ 2900 Series AGMs/3900 Series VSMs, which are the standard for FORC measurements because of their sensitivity and speed.
Lake Shore will additionally be discussing magnetic measurement and test products, including a complete line of gaussmeters, fluxmeters, Hall probes and Helmholtz and search coils, while showcasing their popular Model 425 gaussmeter. Ideal for the demanding needs of the permanent magnet industry, the Model 425 provides high-end functionality and performance in an affordable benchtop instrument. It is ideal for a wide range of manufacturing QC/QA, magnetic sorting and R&D flux density measurement applications.
About Lake Shore Cryotronics, Inc.
Supporting advanced research since 1968, Lake Shore Cryotronics (http://www.lakeshore.com) is a leading innovator in measurement and control solutions for materials characterization under variable temperature and magnetic field conditions. High-performance product solutions from Lake Shore include cryogenic temperature sensors and instrumentation, magnetic test and measurement systems, probe stations, and precision materials characterizations systems that explore the electronic and magnetic properties of next-generation materials. Lake Shore serves an international base of research customers at leading university, government, aerospace, and commercial research institutions, and is supported by a global network of sales and service facilities.