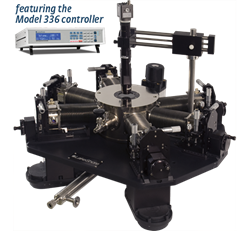 Columbus, OH (PRWEB) April 15, 2014
Lake Shore Cryotronics, a leading innovator in solutions for measurement over a wide range of temperature and magnetic field conditions, announced today that it will showcase cryogenic probe stations and discuss its new fully integrated system for terahertz (THz) materials characterization at the upcoming MRS Spring Meeting & Exhibit in San Francisco, Calif.
Lake Shore offers a full line of cryogenic and cryogen-free probe stations, with configurations and options available for DC, RF and microwave probing of nanoscale devices and materials on full and partial wafers at variable temperatures. For attendees interested in seeing a Lake Shore probe station up close, the company will have its entry-level Model TTPX set up in booth 301 during the April 22–24 exhibit.
Attendees can also learn about Lake Shore's fully configured version of the TTPX (the Model PS-100), which is designed for cost-conscious researchers in need of a basic cryogenic probe station at an affordable price. The Model PS-100 gives users a straightforward probing solution without the complexity of choosing from multiple configuration options. It features a four-arm configuration suitable for most common probing applications.
In addition, Lake Shore will be discussing its new fully integrated Model 8501 THz system for non-contact, THz-frequency characterization of materials. This complete, turnkey hardware/software platform includes a variable-temperature, high-field cryostat for measuring spectroscopic responses across a range of frequencies, temperatures and field strengths. Using continuous wave THz transmission spectroscopy, the Model 8501 enables fully automated, high-resolution characterization for detailed profiles of material responses. Analysis of these spectral profiles can lead to discovery of interesting physical phenomena not visible with other conventional characterization techniques.
Also at MRS Spring, Lake Shore will provide information on its:

12-channel Model 224 temperature monitor, the soon-to-be-released Model 372 AC resistance bridge and temperature controller and other temperature instruments
Hall effect measurement systems, including the 8400 Series HMS with optional AC field Hall measurement
Magnetometer (VSM/AGM) systems
For more information about any of these products, visit http://www.lakeshore.com.
About Lake Shore Cryotronics, Inc.
Supporting advanced research since 1968, Lake Shore (http://www.lakeshore.com) is a leading innovator in measurement and control solutions for materials characterization under extreme temperature and magnetic field conditions. High-performance product solutions from Lake Shore include cryogenic temperature sensors and instrumentation, magnetic test and measurement instruments, probe stations, and precision materials characterizations systems that explore the electronic and magnetic properties of next-generation materials. Lake Shore serves an international base of research customers at leading university, government, aerospace, and commercial research institutions and is supported by a global network of sales and service facilities.