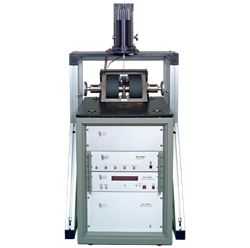 Columbus, OH (PRWEB) June 05, 2014
Lake Shore Cryotronics, a leading innovator in solutions for measurement over a wide range of temperature and magnetic field conditions, announced today that it will be discussing its industry-leading systems for advanced nanoscale device and material characterization during the Nanotech Conference & Expo, June 15–18 in Washington, D.C.
Lake Shore will exhibit its industry-leading vibrating sample and alternating gradient magnetometers (VSM/AGMs) for the study of nanomagnetic composites, dots, wires and arrays. The company's MicroMagTM VSM/AGMs feature high sensitivity and speed, and are ideal for performing first-order-reversal-curve (FORC) measurements, which are indispensable in determining the distribution of switching and interaction fields in magnetic materials.
At the conference, Brad Dodrill, Lake Shore Senior Scientist and VP of Sales, will be presenting a poster on "First-Order-Reversal-Curve Analysis of Nanoscale Magnetic Materials," based on a paper he co-authored with Dr. Leonard Spinu of the University of New Orleans. In it, they present FORC measurement results for an array of nickel (Ni) nanowires.
In addition to VSM/AGMs suited for FORC analysis, Lake Shore offers the 7400 Series VSM for nanoscale material study over a wide temperature range (4.2 K to 1273 K). The 7400 Series is particularly effective at detecting phase transitions and structural changes as a function of temperature and magnetic field in nanomagnetic and molecular magnetic materials.
Also at Nanotech, Lake Shore will be discussing its new THz system for non-contact materials characterization. This turnkey system enables researchers to measure spectroscopic responses across a range of THz frequencies, temperatures and field strengths. Specifically designed for characterization of research-scale materials, the continuous wave (CW) THz spectrometer features a fiber-based optical platform for amplitude and phase detection from 0.2 to 1.5 THz and spectral resolution of better than 250 MHz. Photomixing via CW lasers enables users to focus acquisition time on a narrow spectral region of a sample.
The THz system supports a number of nanomaterial characterization applications, including semiconductor and circuit development, dielectric and optical research, nanoscale plasmonic device research and nanowire thin-film applications.
Lake Shore will also be discussing its comprehensive line of cryogenic, micro-manipulated probe stations. The stations enable magneto-transport, electrical and electro-optical, DC, RF and microwave (to 67 GHz) contact probing of nanoscale electronics.
Lake Shore probe stations are unique in their ability to probe device samples at cryogenic temperatures (from 1.5 K to 475 K) and under the application of magnetic fields up to 30,000 G. These capabilities are becoming more important in the development of nanoelectronic and nanomagnetic products.
For more information, visit booth 421 at the expo or http://www.lakeshore.com.
About Lake Shore Cryotronics, Inc.
Supporting advanced research since 1968, Lake Shore (http://www.lakeshore.com) is a leading innovator in measurement and control solutions for materials characterization under extreme temperature and magnetic field conditions. High-performance product solutions from Lake Shore include cryogenic temperature sensors and instrumentation, magnetic test and measurement systems, probe stations, and precision materials characterizations systems that explore the electronic and magnetic properties of next-generation materials. Lake Shore serves an international base of research customers at leading university, government, aerospace, and commercial research institutions and is supported by a global network of sales and service facilities.