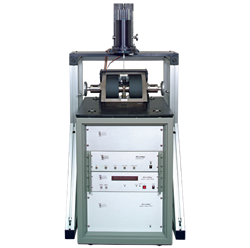 Columbus, OH (PRWEB) August 14, 2014
Lake Shore Cryotronics, a leading innovator in solutions for measurement over a wide range of temperature and magnetic field conditions, announced today that it will be discussing magnetometer systems for characterization of magnetic materials during next week's Rare Earth and Future Permanent Magnets (REPM) workshop in Annapolis, Md.
During the Aug. 17–21 workshop, Lake Shore will specifically highlight its PMC MicroMag™ 3900 Series vibrating sample magnetometers (VSMs) and 7400 Series VSMs for their use in measuring the magnetic properties of permanent magnet materials. The company will also highlight the utility of first-order-reversal-curve (FORC) analysis, which provides information regarding irreversible magnetic interactions in permanent magnet materials, information that cannot be obtained from a standard hysteresis loop measurement alone.
The PMC MicroMag™ 3900 VSM provides for measurements to 2.2 T over a temperature range from 10 K to 800 °C, and the 7400 VSM provides for measurements to 3.1 T over a temperature range from 4.2 K to 1000 °C.
In addition to magnetometer systems, the Lake Shore magnetic measurement and control product line includes electromagnets, electromagnet power supplies, gaussmeters, fluxmeters, Hall probes, and Helmholtz and search coils for direct testing of permanent magnetic components.
For more information, visit http://www.lakeshore.com.
About Lake Shore Cryotronics, Inc.
Supporting advanced research since 1968, Lake Shore (http://www.lakeshore.com) is a leading innovator in measurement and control solutions for materials characterization under extreme temperature and magnetic field conditions. High-performance product solutions from Lake Shore include cryogenic temperature sensors and instrumentation, magnetic test and measurement systems, probe stations, and precision materials characterizations systems that explore the electronic and magnetic properties of next-generation materials. Lake Shore serves an international base of research customers at leading university, government, aerospace, and commercial research institutions and is supported by a global network of sales and service facilities.