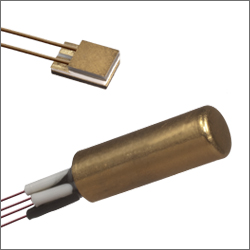 Cernox sensors are able to operate reliably for years while offering superior measurement performance, particularly at the very low end of the temperature scale.
Columbus, OH (PRWEB) March 27, 2014
Lake Shore Cryotronics, a leading innovator in solutions for measurement over a wide range of temperature and magnetic field conditions, announced today that it will be discussing its cryogenic thermometry and material characterization solutions at next week's Space Tech Expo in Long Beach, Calif.
At booth 510, visitors to the April 1–3 expo can learn more about Lake Shore's temperature measurement products, including its popular Cernox™ sensors. Because of their stability and performance, Cernox sensors are ideal for use in satellites. The thin-film resistance sensors offer significant advantages over comparable bulk or thick-film resistance sensors, and their smaller package size enables use in a range of mounting schemes. They also have been proven very stable over repeated thermal cycling and under extended exposure to ionizing radiation and feature low magnetic field-induced errors.
"These advantages, plus that they're able to withstand excessive vibration during launch, make Cernox the ideal mission-critical aerospace sensor," said Ryan Oliver, Lake Shore Product Manager. "They're also able to operate reliably for years while offering superior measurement performance, particularly at the very low end of the temperature scale where thermal, magnetic and electrical interactions can heavily influence reading accuracy."
Lake Shore has provided hundreds of flight-qualified sensors for the NASA James Webb Space Telescope, and its sensors are used in the Mars Curiosity rover. Lake Shore has also been working with NASA to develop a standard testing procedure for aerospace-qualified cryogenic sensors, a procedure that may lead to standardization of sensors for the high reliability requirements of aerospace.
The company also offers germanium and ruthenium oxide (Rox™) sensors, silicon and GaAlAs diodes, as well as other specialty types of sensors (for use in environments from <20 mK to over 1500 K) with NIST-traceable calibrations.
Lake Shore temperature solutions also include controllers, monitors, AC resistance bridges, transmitters and DC current sources. Additionally, the company offers Hall effect measurement systems, magnetometer (VSM/AGM) systems, and cryogenic and cryogen-free probe stations that enable DC, RF and microwave probing of nanoscale devices and materials on full and partial wafers at variable temperatures. Various models are available, including a fully configured version of its TTPX system for scientists in need of a basic probe station at an affordable price, the Model PS-100. The TTPX will be on display in the Lake Shore booth during the expo.
In addition, Lake Shore is now offering a fully integrated 8500 Series THz system for electronic, magnetic and chemical materials characterization. It uses non-contact THz-frequency energy and an integrated low-temperature high-field cryostat to measure material spectroscopic responses across a wide range of frequencies, temperatures and field strengths. The system performs continuous wave spectroscopic response measurements to derive key material properties, including dielectric constant, dynamic conductivity, carrier scattering times and mobilities, vibrational resonances, and magnetic resonances. It can be used to characterize channel materials for FET devices as well as carbon nanotube films and graphene.
For more information about Lake Shore, visit http://www.lakeshore.com.
About Lake Shore Cryotronics, Inc.
Supporting advanced research since 1968, Lake Shore (http://www.lakeshore.com) is a leading innovator in measurement and control solutions for materials characterization under extreme temperature and magnetic field conditions. High-performance product solutions from Lake Shore include cryogenic temperature sensors and instrumentation, magnetic test and measurement systems, probe stations, and precision materials characterizations systems that explore the electronic and magnetic properties of next-generation materials. Lake Shore serves an international base of research customers at leading university, government, aerospace, and commercial research institutions and is supported by a global network of sales and service facilities.