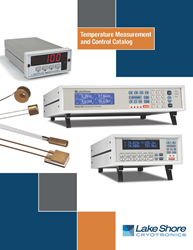 This resource will help customers understand the options available to them and choose the best instruments for their work.
Columbus, OH (PRWEB) February 27, 2014
Lake Shore Cryotronics, a leading innovator in solutions for measurement over a wide range of temperature and magnetic field conditions, has released a comprehensive new catalog for its family of temperature measurement and control products. The downloadable catalog contains detailed specifications and guidance for choosing the best product for various research and industrial applications.
Lake Shore's complete line of temperature sensors and instruments includes its industry-leading Cernox and silicon diode sensors, ultra-low-temperature controllers and monitors, and an AC resistance bridge.
Cernox, the company's popular line of thin-film resistance cryogenic temperature sensors, offers particular advantages to researchers requiring high sensitivity over a wide range. These sensors also feature low magnetoresistance and are best for applications with magnetic fields up to 30 T.
Lake Shore's control and monitoring solutions include the new Model 224, the company's most capable monitor to date. With up to 12 independent channels, the Model 224 is ideal for scientists who need to measure multiple sensors and sensor types while requiring high sensitivity for ultra-low temperatures.
Academic and industrial research customers consider Lake Shore catalogs and documentation to be the industry standard and a valuable resource to support their work. The new catalog provides guidance on choosing sensors and instruments for cryogenic refrigeration systems, including cryogen and cryogen-free cryostats and dilution refrigerators and superconducting magnet systems.
"Lake Shore is committed to supporting researchers as they explore a wide range of important applications," said Ryan Oliver, Lake Shore Marketing Product Manager for Sensors and Instruments. "This resource will help customers understand the options available to them and choose the best instruments for their work."
The catalog can be found at http://www.lakeshore.com/Pages/Downloads.aspx.
About Lake Shore Cryotronics, Inc.
Supporting advanced research since 1968, Lake Shore (http://www.lakeshore.com) is a leading innovator in measurement and control solutions for materials characterization under extreme temperature and magnetic field conditions. High-performance product solutions from Lake Shore include cryogenic temperature sensors and instrumentation, magnetic test and measurement systems, probe stations, and precision materials characterizations systems that explore the electronic and magnetic properties of next-generation materials. Lake Shore serves an international base of research customers at leading university, government, aerospace, and commercial research institutions and is supported by a global network of sales and service facilities.