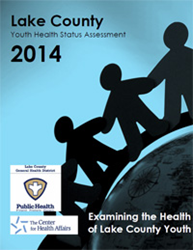 Cleveland, Ohio (PRWEB) October 07, 2014
The Center for Health Affairs, together with the Lake County General Health District, enlisted the Hospital Council of Northwest Ohio and researchers from the University of Toledo to conduct a community health needs assessment (CHNA) of Lake County youth. Hospitals are required to conduct CHNAs every three years to maintain their tax-exempt status.
The Lake Youth CHNA provides health-related information for Lake County youth between the ages of 12 through 18. Schools and grades selected to be surveyed were randomly selected. Findings from the survey include: 17 percent of Lake County youth are considered obese, 15 percent of Lake County youth in grades six through 12 have seriously considered attempting suicide in the past year, and 54 percent of Lake County youth have been bullied in the past year.
To learn more about The Center's involvement in community health needs assessments and to access the full Lake County assessment, visit The Center's Community Needs Assessment webpage or contact Kirstin Craciun, director of community outreach, at 216.255.3616 or via email.
###
With a rich history as the Northeast Ohio hospital association, dating back to 1916, The Center for Health Affairs serves as the collective voice of hospitals and the source for Northeast Ohio hospital and healthcare information. As the leading advocate for Northeast Ohio hospitals, The Center aims to enhance the effectiveness of the healthcare community and the health of the communities it serves by providing expertise, resources and solutions to address the challenges faced by the region's healthcare providers. The Center's efforts focus on areas that benefit member hospitals from a regional approach, including healthcare workforce; emergency preparedness; public policy and advocacy; finance and reimbursement; and community initiatives. And because of its business affiliation with CHAMPS Healthcare, The Center has the resources to provide a broad level of professional services to its members. The Center, located in downtown Cleveland, is proud to advocate on behalf of 34 acute-care hospitals and two long-term acute-care hospitals in six counties. The Center for Health Affairs is honored to be named as one of The Cleveland Plain Dealer's Top Workplaces in 2014 and to ERC's Northcoast99 List in 2003, 2004, 2010, 2012 and 2014. For more, visit chanet.org.