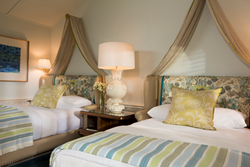 I envisioned a space that marries elements of the Texas Hill Country with the detail of a European dressmaker
Austin, Texas (PRWEB) February 28, 2014
When the word spa comes to mind, thoughts of massages and healthy cuisine dance in one's head, but at Lake Austin Spa Resort, the atmosphere and vibe in the guest spaces are equally important to the award-winning destination spa's experience. Fourteen newly designed Luxury Lakeview Rooms transport guests to an altered state of euphoria with customized interiors including hand-selected furnishings, couture embellishments, a nature inspired color palette and unobstructed views of one of America's most scenic waterways.
Mike McAdams, co-owner of Lake Austin Spa Resort, spent months crafting purposeful touches of elegance and luxury to create an atmosphere of reflection and renewal for resort guests.
"I envisioned a space that marries elements of the Texas Hill Country with the detail of a European dressmaker," McAdams says. "Ultimately, these rooms are designed to evoke a mood, when people walk through the door they can't help but smile and breathe a little deeper."
To accomplish his vision, McAdams again teamed up with Julio Quinones, named one of Dallas' Best Designers by D Home magazine and recognized as one of Metropolitan Home Magazine's World's Best Young Talents.
Silk-trimmed linen swag canopies drape high on rosette medallions above the animal friendly faux leather upholstered wraparound beds. The soothing taupe, teal and sage color palette provides a calm breath, whether from the barely blue on the walls to the intricate textile embellishments of the bedding. It mimics the colors of the lake just beyond the front window. The ornate iron ivy sconces and giant antiqued mirror reinforce the sophisticated French modern feel. A large artisan-crafted ceramic lamp with delicate porcelain leaves and elaborate detailing makes a statement between the beds while its linen shade creates a calm and happy glow within the room. The bathroom and closet have been completely renovated with modern luxe fixtures and feature a standout color and motion sensor lighting.
Original pieces of art were commissioned by Scott Winterrowd, a Dallas based artist who is currently the Curator of Education at the Meadows Museum at Southern Methodist University. Winterrowd spent some time at the property and found inspiration for fourteen unique paintings. His masterful original watercolors feature nature inspired scenes found on the property and adorn each guest room, reminding visitors of what lies just beyond their window.
The fourteen Luxury Lakeview Rooms are equipped with retractable awnings and Brown Jordan furnishings on the patio to enjoy spectacular views of the lake and these accommodations are located closest to the LakeHouse Spa. Guests will enjoy taking their spa experience home with them. Striped cotton throws, luxurious spa robes, precious stone lamp finials and signature bath and body products are available for purchase in the resort boutique. Prices for these rooms start at $2345 per person, for three nights and include all meals, fitness classes and activities.
ABOUT LAKE AUSTIN SPA RESORT
Nestled along the shores of scenic Lake Austin in the beautiful Texas Hill Country, Lake Austin Spa Resort offers guests the sanctuary of a world-class spa and the warmth of a best friend's lake house. Lake Austin Spa Resort offers all-inclusive vacation packages, which include accommodations in one of 40 charming lakeside guest rooms, three gourmet meals daily, indoor and outdoor fitness activities and classes, and a selection of spa and body treatments.
The resort has received numerous awards from prestigious national travel and spa magazines since its multi-million dollar renovation and expansion in 2004. Condé Nast Traveler, Travel + Leisure, US News & World Report, Fodor's, Allure, the Zagat Survey, Health, Garden Design, SpaFinder Wellness, and American Airlines' Celebrated Living magazine have honored Lake Austin Spa Resort as one of the best in the country and in the world.
For additional information and reservations, call 800-847-5637, or visit http://www.lakeaustin.com.