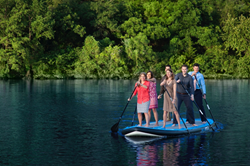 We have re-thought our spaces to encourage conversation and bring creativity and inspiration to both individuals and companies." -Mike McAdams, co-owner of Lake Austin Spa Resort
Austin, TX (PRWEB) July 12, 2016
Ropes Courses are Out, The Ripple Effect is In. Corporate retreats are getting a makeover at Lake Austin Spa Resort.
New on and off-lakeshore teambuilding activities such as Kayak Relays, SUP (Stand Up Paddleboard) Board Meetings, Group SUP Paddle Race and Geocaching are quickly replacing the traditional ropes course thanks to year-round water accessibility. In fact, more than 30 new activities have been added to the curriculum this summer in a new series called The Ripple Effect.And, exclusivity is guaranteed. Lake Austin Spa Resort limits corporate retreats to one group at any given time, assuring high-level attention to each and every participant.
Put simply, "The Boardroom" has been redefined. It's suggested that innovative companies are transcending the notion of long conference tables laden with water pitchers, coffee and doughnuts. Instead, their employees can explore new ideas while sitting under a beautiful arbor, on a dock or even in a hammock — all designed to bring increased productivity to meetings that might once have been considered lackluster. Mike McAdams, co-owner of the property notes, "We have re-thought our spaces to encourage conversation and bring creativity and inspiration to both individuals and companies. Our spaces feel 'residential' and feature original art and antiques. Think: casually elegant, yet refined."
Even the gardens enhance business functions. Trisha Shirey, the resort's Director of Flora and Fauna creates floral arrangements for meetings with fresh rosemary and basil from the on-site organic gardens – both herbs are known to boost mental clarity and focus and help improve memory.
A highlight of planning a retreat at the Austin, Texas destination spa is instructor-led water activities on one of Texas's most pristine and beautiful waterways, more than any other resort in North America. Director of Programming, Robbie Hudson states, "Research has shown that our brains are hardwired to react positively to water. It does two things; it calms and connects us. And it's even suggested that it induces a sense of euphoria."
There are a host of water optimizing options that guests especially enjoy, including: Stand Up Paddleboarding; Boat cruises and lakeside picnics; Hydro-biking; Kayaking; Sculling; Yoga and Meditation on the yoga deck; and three indoor pools, designed for every fitness level. Off the water activities available to groups include private cooking classes, team hikes, meditation walks and boot camp – all customized to the groups' needs and goals.
While it might be conceded that linking work — sometimes deemed a four-letter word — and a state of euphoria is far-fetched, a recent participant can attest to its benefits. Paula Froelich, former Editor in Chief of Yahoo Travel says, "the team at LASR created a customized excursion for our group which took us out of our comfort zone and into the wild to stretch our boundaries and see things from another perspective. And, ending our hiking adventure with a champagne toast on the trail left a lasting impression that our attendees still talk about today."
Andrea J. Kin, Vice President of Operations at DaVita VillageHealth, Inc. adds, "The location was perfect – right on Lake Austin, with beautiful relaxing views. Instantly our stress levels went down. The accommodations were luxurious and we took advantage of several different spaces for our meetings, from the conference room inside a spa, to a dining area by the lake and even a yoga dock that was right on the water. It was the perfect place for a team to bond."
The luxury spa resort is known for providing a stellar experience on the shores of beautiful Lake Austin in the scenic Texas Hill Country featuring stylish interiors, an on-site organic garden which provide ingredients for deliciously healthy spa cuisine, as well as local and global inspired spa services in the LakeHouse Spa, up to 20 fitness classes and activities daily and a welcoming environment that prompts rejuvenation and relaxation. Currently the resort is the #1 Hall of Fame Destination Spa in the United States by Travel + Leisure World's Best Awards 2015, rated #1 Resort in Texas and the Southwest by Condé Nast Traveler Readers' Choice Awards 2015 and the #1 Fitness and Wellness Resort in Fodor's Travel 2014.