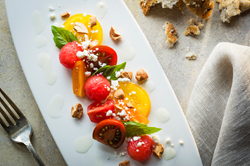 Austin, Texas (PRWEB) January 26, 2015
Distinguished by a menu that successfully marries "health" and "gourmet", Lake Austin Spa Resort shares secrets of preparing deliciously healthful cuisine for one week every month during its celebrated Lake Austin Culinary Experience ™ program. Named one of the Top Ten Best Spas for Cooking Classes, an overall focus on health and wellness pervades at the top ranked 40-room destination spa where guests can partake in up to 20 daily classes and activities and choose from 100+ spa treatments at the LakeHouse Spa to round out their culinary focused experience.
The popular series begins on the second Monday of every month, year round. Lake Austin Spa Resort's culinary team is joined by renowned restaurateurs, cookbook authors, James Beard award winners and acclaimed television personalities in a very intimate setting. Additionally, the resort showcases the talents of their own Executive Chef Stéphane Beaucamp who began his culinary training in Paris, France and shares his passion for healthy living and clean, fresh food during his interactive classes.
In 2015, the resort will host a variety of star chefs including: Food & Wine magazine Special Projects Director and author, Gail Simmons; "Top Chef" contestant Angelo Sosa; The New York Times Chief Wine Critic, Eric Asimov, James Beard Award winning Chef and "Top Chef" notable Hugh Acheson and founding Food Network personality, Sara Moulton to name a few.
During the Culinary Experience weeks, in addition to daily cooking demonstrations, other activities may include Adventures in Cocktail Gardening, The World of Wine, All About Olive Oil, Guided Organic Garden Tour, Hands on Lunch and Learn, Health Benefits of Tea and Tasting, Knife Skills, Composting 101, Herbal Swags and more. The Culinary Experience program is complimentary to overnight guests of the award-winning destination spa.
Farm to Massage Table spa treatments also celebrate the foodie affair and feature herbs from the resort's organic gardens as well as draw inspiration from indigenous ingredients such as lavender, rosemary, fig, pomegranate, eucalyptus, mesquite, honey, prickly pear, agave nectar and others.
Upcoming guest chefs include:

February 9, 2015. Angelo Sosa was the runner up on Bravo TV's "Top Chef" and is owner of New York's Anejo. His new cookbook, Latin Flavors Remix will be available in January 2015.
March 9 and 10, 2015. Karen Page and Andrew Dornenburg are two-time James Beard Award winning creators of The Flavor Bible, What to Drink with What You Eat and The Food Lovers Guide to Wine to name a few.
April 13 and 14, 2015. The BBQ Queens, Karen Adler and Judith Fertig, are best-selling, award-winning cookbook authors including The Gardener and the Grill, Patio Pizzeria, and the upcoming BBQ Bistro.
May 15, 2015. Joanne Weir is a James Beard Award-winning cookbook author and judge, international cooking teacher, television personality and chef.
June 19 and 20, 2015. Corinne Trang is the author of several books including Asian Flavors Diabetes Cookbook and has been dubbed the "Julia Child of Asian Cuisine" by the Washington Post.
June 19 and 20, 2015. Eric Asimov is the chief wine critic of The New York Times and the author of How to Love Wine: A Memoir and Manifesto, published by William Morrow, and Wine With Food: Pairing Notes and Recipes From The New York Times.
July 13, 2015. Sara Moulton is one of the most trusted names in the food biz. As the host of "Cooking Live," "Cooking Live Primetime," and "Sara's Secrets" between 1996 and 2005, she was a founding Food Network personality.
July 17 and 18, 2015. Chef and Owner of four restaurants in Georgia, Hugh Acheson is the winner of several James Beard Awards and has established his presence as a recurring judge and personality on BRAVO's "Top Chef."
August 15, 2015. Gail Simmons is a "Top Chef" darling, Food & Wine contributor and author. Since the show's inception in 2006, she has lent her extensive expertise as a permanent judge on BRAVO's Emmy-winning series "Top Chef." Now in its twelfth successful season, "Top Chef" is rated the #1 food show on cable television.
September 16 and 17, 2015. Chef John "Johnny Vee" Vollertsen is a Food Radio talk show host and director of the Las Cosas Cooking School in Santa Fe, New Mexico.
October 16, 2015. Seasoned Lake Austin Spa Resort guest instructors, Cheryl and Bill Jamison, return with Martin and Jennifer Rios, the proprietors of Santa Fe's celebrated Restaurant Martín to share recipes from the new Restaurant Martín Cookbook, which the Jamison's helped create.
ABOUT LAKE AUSTIN SPA RESORT
Nestled along the shores of scenic Lake Austin in the beautiful Texas Hill Country, Lake Austin Spa Resort offers guests the sanctuary of a world-class spa and the warmth of a best friend's lake house. Lake Austin Spa Resort offers all-inclusive vacation packages, which include accommodations in one of 40 charming lakeside guest rooms, three gourmet meals daily, indoor and outdoor fitness activities and classes, and a selection of spa and body treatments.
The wellness resort has received numerous awards and accolades from prestigious national travel and spa magazines since its multi-million dollar renovation and expansion in 2004. Condé Nast Traveler, Travel + Leisure, US News & World Report, Fodor's, Allure, the Zagat Survey, Health, Garden Design, SpaFinder Wellness, and American Airlines' Celebrated Living magazine have honored Lake Austin Spa Resort as one of the best in the country and in the world.
For additional information and reservations, call 800-847-5637, or visit http://www.lakeaustin.com
Media Contact: Darlene Fiske, 512-331-7755