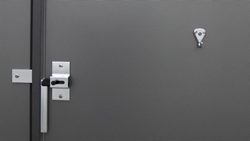 For anyone currently specifying a project that requires bathroom partitions, I would tell them to consider Hiny Hiders by Scranton Products. They are durable, sustainable and they're going to last. - Kelly Mede, Facilities Director, Lake Forest Academy
Scranton, PA (PRWEB) July 30, 2014
Lake Forest Academy in Lake Forest, Illinois, one of the country's most renowned independent, co-ed, boarding schools, has selected Scranton Products' Hiny Hiders® bathroom partitions for the men's and women's restrooms in its new, ultra-modern Science Center. The Science Center is the newest addition to the 435,000-sq.-ft. campus.
"Since this is a Science Center, our goal was to create a learning environment that was clean and modern-looking," said Kelly Mede, Director of Facilities. After several renovations around the campus including other restrooms, Mede said they had started to move away from traditional metal to high density polyethylene (HDPE), a material that is more durable and easier to maintain. "The metal partitions had rust problems and required a lot of maintenance," she said. "Hinges needed to be replaced frequently and the partitions peeled so they often required repainting."
With the help of their architectural specialties vendor, Prestige Distribution, Inc. of Northbrook, IL, Mede and the facilities team chose Hiny Hiders HDPE partitions in the Metallic Collection's Stainless Color with EX texture. The rigid texture has a pattern of raised dots and the bold, metallic look of stainless steel without the high cost. Seven partitions were furnished and installed by Prestige Distribution in the Science Center, three in the men's bathroom and four in the women's bathroom.
"The key to this project was finding an alternative to expensive stainless steel restroom partitions. The color and texture look just like stainless steel which is perfect for the contemporary design of the new Science Center," said Mede. She noted that the non-porous surface of HDPE is naturally resistant to bacteria, odors, mold and mildew.
Mede says they've had virtually no maintenance issues in any of the restroom stalls and they look as good as when first installed. Hiny Hiders are GREENGUARD Gold CertifiedSM for improved indoor air quality, meeting the strictest standards for school environments. They also contribute points toward LEED certification, another contributing factor in Mede's selection of the product.
Mede adds, "For anyone who is currently specifying a project that requires bathroom partitions, I would tell them to consider using Hiny Hiders by Scranton Products. They are durable, sustainable and they're going to last."
To learn more about Scranton Products Hiny Hiders Bathroom Partitions, visit http://www.scrantonproducts.com.
About Scranton Products
For more than 25 years, our premium brands have led the plastic partition & locker market, setting new benchmarks for the industry in quality and innovation. Our well-known brands, including Hiny Hiders®, Resistall™,Tufftec® and Duralife®, feature the most durable, low maintenance and best looking partitions, lockers and industrial sheet products in the industry. They won't dent, rust or need painting, and because they have color throughout, delamination is not a factor. For more information, visit http://www.scrantonproducts.com.