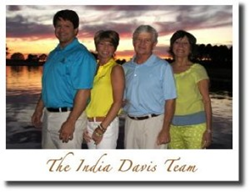 In the years to come, the Lake Martin MLS is doubtless going to feature just as many highly desirable interior homes as waterfront ones.
Lake Martin, AL (PRWEB) February 27, 2014
There's a wider range of waterfront and water access properties now available in the Lake Martin real estate market and there will be even more options soon, reports the India Davis Team. There are still a few properties left in Phase 1 and Phase 2 of the Willow Glynn community, for example, and Phase 3 is scheduled for release in the spring.
"Russell Lands' CEO Tom Lamberth has also stated that there's going to be a new phase added to The Ridge," says Realtor India Davis, who has been the area's top-selling agent for years. "Currently, The Ridge's newest offerings can be found in the neighborhoods of Ridge Estates South, Ridge Run and Russell Cabins at The Ridge."
Russell Lands On Lake Martin has been a major force in the development of the Lake Martin area for generations. The company currently owns approximately 20,000 acres in the region and a total of 200 miles of shoreline. Apart from its lakefront holdings, Russell Lands is also currently developing Russell Crossroads, a traditional, pedestrian-friendly town center that has been designed with Lake Martin's agrarian roots in mind.
"The most sought-after Lake Martin homes for sale are typically the ones that are right on the lake and with good reason, though water access properties have their charm as well," says Davis. "Whichever property you opt for, you can look forward to endless days of boating, fishing, swimming, sunbathing, nature hikes, and spending quality time with friends and family."
Extending across 44,000 acres, Lake Martin is located in central Alabama and is one of the country's largest manmade lakes. It has a wooded shoreline that's over 750 miles long and has been a popular vacation destination for generations.
"To see what properties are available now, you can search the Lake Martin MLS through our website, where we also post regular updates on what's going on in the various developments in the area," adds Davis.
For more insights on the real estate market in Lake Martin and to learn more about the India Davis Team's wide range of services, visit http://www.LakeMartinRealEstate.com or get in touch with the team directly.