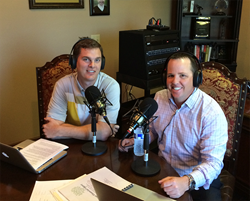 We don't just do insurance, I'm not just a stockbroker, as a fiduciary it's my job to build a retirement plan that is in the best interest of my client.
Fort Worth/Arlington, TX (PRWEB) May 31, 2016
Financial Advisor Jonathan Lawton of Lake Point Advisory Group announces the launch of the Rockwall, Texas-based firm's new radio program, "Wealth Smart" on 660-AM The Answer, airing Sunday mornings from 7 a.m. to 8 a.m. The goal of the program is to reach out to the greater North Texas pre-retiree and retiree community weekly to provide information on strategies to achieve financial security and enjoy retirement comfortably.
Making sure one never runs out of money during retirement can be a challenge. In the past, one simple solution was to buy an annuity that would pay a stream of income for the rest of one's life, but Lawton says that annuities are only one component of the big picture. Creating a portfolio that shifts from growth to income at this stage of life is the goal, and that requires building an income-driven portfolio by leveraging asset classes that generate income for lifelong financial security.
"Pre-retirees and retirees have spent a lifetime contributing to their retirement plans that are designed for growth,' Lawton says. "They see the performance of their plan based on dollar cost averaging into the investment, and so they are rewarded for volatility, they are rewarded for putting a consistent payment in over time; the problem is, when we are putting together a plan for someone who is about to go into retirement or is in retirement, where volatility helps in a growth portfolio, the opposite is true for a retirement income portfolio.
"We really have to shift from growth to income, and the tools we use are very different."
Lawton says his approach to helping pre-retirees and retirees is to build a portfolio through income producing assets. By using all of the 18 different asset classes available when setting up an individual's investments, owning assets that provide yield translates into income generation.
"With a growth portfolio, you have to sell shares to create income," Lawton says. "If you want your money to last, you have to have an income-generating portfolio based on yield."
As a certified financial planner and fiduciary, Lawton says that his approach is not to pressure anyone into buying any product. Instead, he reviews each client's existing retirement plan and offers ways to improve their portfolio. The process begins with a review of the client's social security benefits, after which Lawton says a 28-page report is produced that helps determine ways to reduce the individual's taxes on Social Security, increase their fixed monthly income and help preserve their retirement nest egg.
"For the majority of Americans, Social Security is going to be your most important retirement asset, making sure you have a plan for Social Security is essential in creating a foundation to your retirement plan" Lawton says.
Pensions, health insurance, and retirement and investment accounts—IRAs, 401(k)s, etc.—are examined, and Lawton measures their levels of risk, whether the client is fully diversified in the market, is there any overlap, and how much income can be generated from the portfolio.
"We analyze your current situation and determine if your plan fits ," Lawton says. "We don't just do insurance, I'm not just a stockbroker, as a fiduciary it's my job to build a plan that is in the best interest of our clients.
"I think a lot of people are afraid of the cost of working with an advisor and I'll tell you, nine times out of 10 we're saving people money. We're showing you a strategy that makes sense for your individual situation, with all the components of a fully diversified portfolio—income generating asset classes, defensive strategies, actively managed, passively managed, but all of the components get to the end goal cost effectively, in a way that improves their situation," he says.
As retirement approaches, there's a shift for ongoing income from investments playing a greater role in balancing expenses and securing lifestyle preferences.
For more information, visit the Lake Point Advisory Group website, email info(at)lakepointadvisorygroup(dot)com, or call 214.771.3363.
About Lake Point Advisory Group:
Established in 2000 by President Reid Johnson, Lake Point Advisory Group is committed to helping clients meet their financial needs. By evaluating and assessing their clients' financial situations, the firm's wealth management team provides suitable recommendations to improve each client's portfolio, and they do so with integrity and transparency. Lake Point Advisory Group's experienced professionals are not only knowledgeable about finances, they also understand the importance of priorities, family and confidence in the client's financial future.
Lake Point Advisory's wealth management team employs members of the Financial Planning Association (FPA®), the largest membership organization for personal financial planning professionals in the United States. FPA members are those who commit to the highest standards of professional competence, ethical conduct and clear, complete disclosure to those they serve. They deliver advice using an objective, client-centered, ethical process.