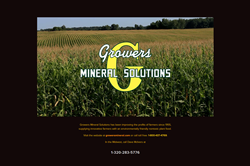 We're interested in providing stories that would be considered outside the mainstream ag story.
Brandon, Minnesota (PRWEB) January 29, 2014
Lakes Country Living, a half-hour made-for-cable video magazine featuring stories of rural Minnesota, has announced a new sponsorship agreement with Growers Chemical Corporation, the Ohio-based manufacturer of Growers Mineral Solutions. The sponsorship is timed in conjunction with the beginning of the 2014 television season.
Hosted by nationally acclaimed landscape painter Stephen Henning, Lakes Country Living's topics include the arts, agriculture, Main Street entrepreneurs, local history, natural resources and outdoor recreation. Particular attention is given to conveying local flavor. With this additional support, Henning adds, "we have added story segments specifically focused on farming and gardening in Minnesota – more intentionally than we have in the show's first three seasons."
Although not intended as a farm journal, Lakes Country Living emphasizes unique activities and sites that are appealing to the broader audience of Midwestern farmers as well as those who live in Minnesota. "We're interested in providing stories that would be considered outside the mainstream ag story, focused on alternative and sustainable agriculture," Henning points out. "And perhaps more down-home and lifestyle oriented."
For the current season Lakes Country Living has filmed many stories that fit in well with an enterprise trying to appeal to innovative farmers who are seeking to improve their profitability – an enterprise such as Growers Mineral Solutions. For instance, David McIver, a breeder of Hereford and Saler cattle, is the Midwest rep for Growers. David, his wife Marilyn and son Scott were the Pope County Farm Family of the Year in 2011, and will also be featured on Lakes Country Living this year. The McIvers are very enthusiastic about the Growers program, using it on field crops as well as with their livestock. Other stories will focus on ag stories such as a grass-fed dairy operation, a family-run liming business, a cold-climate greenhouse, a sustainable farming program, and even a barn preservation and restoration program.
Even back in the cable television show's first episode in its first season on the air, Lakes Country Living included a story on Bluebird Gardens, a CSA operation. Owner Mark Boen spoke about the huge benefits of adding calcium to the soil, followed by adding important trace minerals to enhance his farm's nutritional density, and ultimately improving the quality of the produce he sells. This is exactly the approach Growers Mineral Solutions offers farmers and, on a smaller scale, gardeners.
Growers Mineral Solutions is an environmentally friendly, nontoxic plant food and livestock supplement that is safe and easy to handle and apply. It is one of just a few products that can help farmers comply with CAFO, Nutrient Management and other environmental regulations. Founded in 1955, Growers Mineral Solutions serves 27 states of Midwestern and Eastern United States, Ontario and Quebec, Canada.
"Growers Mineral Solutions is proud to sponsor and be associated with Lakes Country Living," according to Jennie Henry, company president. "Besides the obvious fit with our business' mission, we are glad to help promote the greater good of the region we serve. In a positive and fun way, Lakes Country Living addresses the concerns of all who live in rural Minnesota, as well as the interests of those in surrounding states."
Henning, an organic gardener when he's not working on Lakes Country Living, has been using Growers Mineral Solutions for two growing seasons. "I'm excited about the results I've seen. I wouldn't feel comfortable with a sponsor if I didn't believe in the product. Growers Mineral Solutions is a sponsor that fits well with the Lakes Country Living audience and the stories we like to cover; I am very grateful for their sponsorship support of Lakes Country Living."