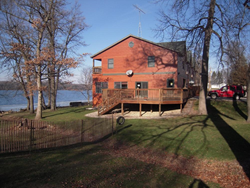 Markesan, WI (PRWEB) September 11, 2014
A major commercial investment opportunity has opened up in Central Wisconsin in Green Lake County at N2811 Park Road in Markesan (zip: 53946). A turnkey, income-producing opportunity, the property features overnight lodging, a private boat launch, a bar, a restaurant, and a scenic deck. Furthermore, parks, campgrounds, golf, snowmobile trails and much more surrounds the area.
The location serves as a top destination point for recreation in Green Lake County. The property is currently known as Vandy's and since it features 245 feet of shore on Little Green Lake, it is a premier fishing and resort location, as well. Vandy's, which is 6,982 square feet, was constructed in 2004 on 1.25 acres of land. The property is listed at $925,000 with an opening bid of $595,000 if no offer is received by the September 27th auction.
The city of Markesan, according to the mayor on its website, is "the largest city within the school district" and "offers true community living." The city is also "situated in an area of prime agricultural land which helps to support the canning industry."
Considering the area houses such a wide range of residents and sees attention from people all across the state, it is a safe bet that a well-advertised business near such retail activity would be a profitable opportunity. The team at Micoley.com employs a hybrid strategy specializing in helping buyers with high-potential properties just like this one.
Interested parties should visit micoley.com to find more photos and details about the property, or by visiting in person and performing an inspection on site, which is highly recommended. (866) 371-3619 is Micoley.com's information line. Additionally, Micoley.com features a live chat service through which questions can be answered.
About Micoley.com:
Green Bay, Wisconsin-based Micoley.com is a real estate marketing firm specializing in project focused auctions of bank-owned properties throughout the United States. The Micoley.com approach to real estate marketing tailors each auction plan to the client's individual needs. The site is constantly being updated for the benefit of buyers, as large-scale auction events are held monthly, and new properties are added daily. Auctioneer: Wade Micoley #2353. Broker: Wade Micoley #PB00074362.