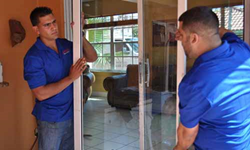 Sliding Doors in Lake Worth and all of Florida are becoming more popular. Customers remodeling their homes are interested in interior sliding doors, such as barn doors
Lakeworth, Fl (PRWEB) July 24, 2015
Express Glass and Board Up, one of the top-rated sliding door repair services in Lake Worth, Florida, has issued a clarification to residential and commercial customers about the sliding door services provided. All repair and replace services are for glass doors, only, such as patio doors leading out to balconies and backyards. The company has received an avalanche of requests for non-glass sliding doors, but it does not repair that type.
"Sliding Doors in Lake Worth and all of Florida are becoming more popular. Customers remodeling their homes are interested in interior sliding doors, such as barn doors," explained Yani Santos, general manager of Express Glass. "We want to clarify to our customers that we only service sliding doors made of glass, like patio doors, or doors with a glass element. We are professionals in glass door repair and this is where we bring value to our customers. French doors that include glass are included in our service focus."
To learn about more about Express Glass Lake Worth sliding door repair and replace services, please visit: http://www.expressglassfl.com/lake-worth-glass-window-repair/ . Information about Lake Worth glass repair and replace services in other Palm Beach County, Florida locations can also be found.
Exterior Sliding Doors Have Weather-Proof Glass While Interior Sliding Doors Do Not
Lake Worth residents frequently upgrade their homes to better enjoy the ocean breezes and sunshine Florida is famous for. Modern sliding doors such as barn doors and wooden panels are becoming more popular for interior upgrades. These are great additions to homeowners looking to bring the "outside in." Interior sliders are also a compliment to easy-glide sliding glass doors that open to the outside. Express Glass & Board Up are experts in helping homeowners choose the right glass for their exterior sliding glass doors. Interior sliding doors may be closed for privacy, but the right exterior sliding glass doors are weather-proof and close for protection, safety and security.
About Express Glass and Board Up
Express Glass and Board Up Service Inc. is a family owned and operated glass repair business with more than 20 years of experience. Their professional technicians and the large variety of inventory make Express Glass the top glass repair service. If customers are looking for Lake Worth glass repair or Palm Beach County glass repair, please reach out to the company for a free estimate. If customers need a 24/7 Sliding Glass Door repair service in Lake Worth, Palm Beach County Florida, technicians are standing by. The company specializes in sliding glass door repair and window glass repair; technicians will handle any glass replacement situation efficiently. Home or business glass repair is the company's main priority.
Express Glass Repair and Board up
http://www.expressglassfl.com/