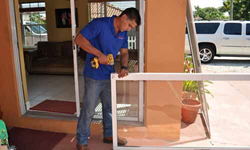 A busted window or patio door is not something that some duct tape and cardboard can fix," commented Yaniet Santos, general manager of Express Glass.
Lakeworth, Florida (PRWEB) August 11, 2016
Express Glass & Board Up, the sliding glass door repair leader in Lakeworth Florida (http://www.expressglassfl.com/lake-worth-glass-window-repair/) is proud to announce a new blog post about the many reasons why busted glass occurs and the importance of a quick, proper repair. Windows and sliding glass doors that are cracked or broken may threaten the safety and comfort of a residence. A professional glass repair can help avoid several threats to the home.
"A busted window or patio door is not something that some duct tape and cardboard can fix," commented Yaniet Santos, general manager of Express Glass. "Ignoring the problem can create more problems such as burglars, bugs and water damage. A smart, solid repair or replacement can give the home security again. Our blog post details the rationale for this important vigilance."
To read the new blog post on the Lakeworth page go to http://www.expressglassfl.com/blog/glass-repair/gonna-call-lake-worth-broken-windows-glass-call-us/. Information about evaluating and repairing busted sliding glass door and windows is ready for detailed review by interested homeowners. Details about 24/7 emergency glass repair and budget saving coupons for sliding glass door repair are also available.
Sliding Glass Door Repair and Small Town Living Connect in Lakeworth
Smaller towns such as Lakeworth, Florida, can move at a slower pace than its cosmopolitan counterparts. The frantic pace and stressful city life is left behind for a more relaxed daily existence. Floridians living outside the "fast lane" may treat home repair tasks with the same laid back approach. If a chair leg is loose, or a sliding glass door is busted, the fix could be as simple as duct tape and cardboard. A quick DIY job may appear to be fine until something more permanent can be done. The choice could also be a risky decision and invite unwanted trouble. Whether a homeowner lives in the big city or a small town, a professional sliding glass door repair job may be crucial to home security.
Express Glass, the sliding glass door repair experts for Lakeworth and the Palm Beach County area, has recently released a blog post about the dangers of ignoring busted glass. A taping over approach to cracks and holes in sliding glass doors may not be the wisest choice, according to this important post. Burglars, bugs and bad weather can easily sneak through a bad DIY job and pose a further risk to the home. Calling a sliding glass door repair professional can help bring security and comfort back to the residence. A secure, cozy home is a nice compliment to the easy life. Lakeworth locals can enjoy the slow pace of small town living while receiving big city glass repair service. Those interested in learning more on the rationale for quick response are referred to the blog post in its entirety.
About Express Glass and Board Up
Express Glass and Board Up Service Inc. is a family owned and operated glass repair business with more than 20 years of experience. Professional technicians and the large variety of inventory make Express Glass the top glass repair service. If customers are looking for emergency, 24 hour glass repair in Miami glass repair or Lakeworth sliding glass door repair, please reach out to the company for a free estimate. If customers need a 24/7 emergency sliding glass door repair or replacement service along the Florida coastline, technicians are standing by. The company specializes in sliding glass door repair and replacement as well as window glass repair; technicians will handle any glass replacement situation efficiently. Home or business glass repair is the company's main priority.
Express Glass Repair and Board up
http://www.expressglassfl.com