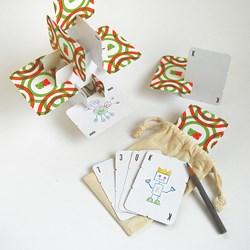 New York, New York (PRWEB) October 18, 2013
Eco-friendly craft toy company Urban Canvas is pleased to announce that their Build 52 Playing Cards is featured in Lalaalu's newest box collection, Urban Design Big Kid Box, curated by fashion icon, Colleen Crivello.
"We are excited to be included in such a well curated and thoughtful collection of children's products," says founder Maria Chee. "Our Build 52 Playing Cards is perfect for the parent seeking a creative and portable alternative to a digital device for their child."
The Build 52 Playing Cards is a versatile set of playing cards that is a fun arts and crafts activity for all ages. Each card contains interlocking slots and is printed with standard numbers and letters leaving plenty of room for a child to add their own design and symbol system. Children can play classic card games with the deck of cards, invent a brand new card game, or use it as a building toy to create the ultimate house of cards.
"Lalaalu really understands the needs of the urban parent and selects products that are a refreshing change from the toys that are found in big box retailers," says Maria Chee. Also included in the Urban Design Big Kid Box are Wallies Chalkboard Decals, Mu Postcards From the Insect World A-Z, Wee Gallery Dino Tattoos, and Wash With Water Yummy Tubby Shampoo and Body Bar. To find out more about Lalaalu's Urban Design Big Kid Box, visit http://www.lalaalu.com.
About Urban Canvas:
Urban Canvas is committed to preserving the environment and developing arts and crafts toys that stimulate artistic growth in children. Urban Canvas toys are three-dimensional sculptural canvases for children to build, decorate, play and display. Urban Canvas promotes recycling, reducing landfill waste and increasing the overall health of the planet for our children.