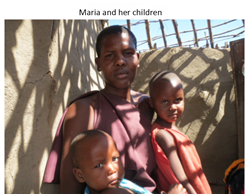 The 27-page catalog contains new projects to benefit Maasai widows, remote village schools, and Moshi families.
MENLO PARK, Calif., (PRWEB) February 29, 2016
Lalafofofo.org, a 501(c)(3) nonprofit organization established to raise funds for affordable, small-scale service projects in the Kilimanjaro region of Tanzania, has released its 2016 catalog of micro-grant projects to improve the lives of villagers living in the remote East African Maasai community of Boma Ng'ombe. The 27-page catalog contains new projects to benefit Maasai widows, remote village schools, and Moshi families.
The first project, Build a House for a Maasai Widow, is an ongoing campaign to build homes for struggling Maasai widows in Boma Ng'ombe. In the patriarchal Maasai bush culture, men are polygamous and women are financially dependent on their husbands. When he dies, his family will often take possession of the marital home and evict the widow.
Lalafofofo.org is working to raise $2,000 per house building project, which pays for all materials and labor. Most Maasai widows must make due in a hut assembled with sticks, grass and cow dung; these round huts with a thatched roof and dirt floors are a common sight in the regional landscape.
For $2,000, local laborers can build a small house widows and their children that can last more than 20 years, eliminating the constant maintenance the huts require. Each house is less than 1000 square foot, and has several windows, a door, usually three small rooms and a bathroom. Building a house for a Maasai widow serves many functions; a house gives widows and children a place of permanence and maintains their social standing in the community. Most importantly, it is a safer and healthier existence for the family because the house has a door that they can lock for security.
The second micro-grant project, Build a Sanya Station School Kitchen, was established to raise $1,650 to build a kitchen for the Sanya Station School in Boma Ng'ombe. Because the region is arid and drought-ridden, families do not have enough water to grow sufficient food to eat. Public schools in Tanzania depend on families to pay fees to the school to cover the day-to-day running of the school, but money is scarce in this impoverished area and many families are unable to pay the school fees. This makes it difficult for the school to provide a basic education, and leaves the school unable pay for any additional needed building projects. Sanya Station School needs a kitchen in order to feed its 455 students and five teachers lunch each day.
The Sanya Station public school campus consists of three buildings, all of which are classrooms. The buildings were built in the 1960s in the Tanzanian-style of construction—brick and metal—with no windows or electricity. Each desk is shared by 3-4 students, and there are between 40-50 students per classroom.
There is a location in the back of the school that can accommodate a small separate building for a kitchen. Currently, lunch is being cooked in a shed over an open fire next to the school's "play yard."
The third micro-project, Light Up Boma Ng'ombe, funds solar lanterns for village residents who live without electricity. Boma Ng'ombe lies just south of the equator, and there are 12 hours of night (and day) year-round. Many villagers do not have electricity, and those that can afford having electricity installed usually prioritize putting lights on the outside of the house to ward off animals and intruders. The lack of electricity inside of homes coupled with the long nights necessitate the burning of candles and kerosene lanterns to light homes, which can be unsafe.
Lalafofofo is seeking donations for Luci lanterns, which are durable, reliable, affordable and practical solar lanterns designed for use in a variety of living conditions. They are manufactured by Mpowerd, and are made of durable plastic, inflatable, and provide light for six hours before they can be recharged in sunlight.
For a family living in a traditional hut or house, typically 2-3 solar lights are sufficient to light the interior space. The light is particularly useful to help children do homework at night and for women to cook. These durable solar lanterns cost $9.99 – $14.99 each, and 30-45 lanterns can be purchased and donated to multiple families at a cost of $450.
Lalafofofo is also continuing two school lunch programs to feed 200 students at the Tindegani Public School near Boma Ng'ombe, and 150 students at the Mlima Shabaha School in Kilmanjaro, Tanzania.
To make a donation to one of micro grant projects or school lunch programs, or to find out more about charitable projects in Tanzania, visit the Lalafofofo.org website, email info(at)lalafofofo(dot)org, or call 650.218.3027.
About Lalafofofo.org:
Lalafofofo(a Swahili expression for "sleeping peacefully") is a 501(c)(3) charitable organization created by Laura Vaughan of Atherton, Calif. Lalafofofo is set up to be a source of affordable, small-scale service projects in the Kilimanjaro Region of Tanzania, East Africa. Lalafofofo links individuals, youths, families and groups directly to much needed projects in Kilimanjaro, ranging in cost from $500-$2,500 for financial sponsorship.