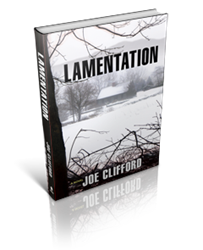 "Clifford (Junkie Love) understands human potential for moral collapse and redemption, and his lean, gritty prose never lets characters or readers off the hook."—Publishers Weekly (Starred Review)
Longboat Key, Florida (PRWEB) October 21, 2014
Two brothers—one small town with very ugly secrets—some will stop at nothing until one brother is dead and the knowledge he holds is destroyed.
LAMENTATION by Joe Clifford is now available in Hardcover (ISBN: 978-1-60809-133-1, Thriller, 201 Pages, List $25.95) and all eBook/Digital Formats (ISBN: 978-1-60809-134-8, List $14.95) through public libraries and bookstores everywhere.
The Story...
In a frigid New Hampshire winter, Jay Porter is trying to eke out a living and maintain some semblance of a relationship with his former girlfriend and their two-year-old son. When he receives an urgent call that Chris, his drug-addicted and chronically drunk brother, is being questioned by the sheriff about his missing junkie business partner, Jay feels obliged to come to his rescue.
After Jay negotiates his brother's release from the county jail, Chris disappears into the night. As Jay begins to search for him, he is plunged into a cauldron of ugly lies and long-kept secrets that could tear apart his small hometown and threaten the lives of Jay and all those he holds dear.
The Buzz...
"Clifford (JUNKIE LOVE) understands human potential for moral collapse and redemption, and his lean, gritty prose never lets characters or readers off the hook."
—Publishers Weekly (Starred Review)
"Verdict: Clifford's fourth book (after CHOICE CUTS, WAKE THE UNDERTAKER, and JUNKIE LOVE) paints a bleak but honest picture of northern New England. A taut thriller rendered in vivid prose, this book contains only a few surprises but builds a relentless, compelling momentum. Recommended for noir lovers and readers of novels set in New England."
—Library Journal
"Some books live on in your mind long after you put them down, and LAMENTATION is one of them. The novel's perfectly constructed plot unfolds with the thoughtful precision and menace of a cat burglar. The pervasive atmosphere of psychological suspense ratchets up a notch with each page turned. Most of all, it was the voice of Jay Porter, the book's protagonist, that grabbed me from the start—cocky and smart, sarcastic yet soulful, barely able to keep his life together yet determined to help his troubled brother. Joe Clifford's talent is exceptional."
—Hilary Davidson, author of the DAMAGE DONE, NEXT ONE TO FALL, and EVIL IN ALL ITS DISGUISES
"Clifford paints true-to-life characters with the same gritty touch as the best of Dennis Lehane. Straightforward and edgy, LAMENTATION gnaws with nail-biting tension on every page. A must-read for contemporary hardboiled mystery fans who appreciate the type of terse dialogue and real life conflicts and settings Elmore Leonard so richly brought to life."
— Robert Dugoni, author of THE JURY MASTER, BODILY HARM, and MURDER ONE
"Jay Porter is a solid New England guy who's had a troubled life. His parents died in an auto accident under suspicious circumstances when he was a kid. His brother is a drug addict. He and his girl have split up. He barely knows his young son. He makes ends meet by doing odd jobs. Yet when his brother is suspected of murdering his business partner, Jay's staunch character and moral code compel him to help his sibling and stare down his personal demons. From its compelling opening through its stunning climax, Lamentation is deftly plotted, immensely readable and artfully executed. This story is as chilling as a winter day in Northern New Hampshire. Jay Porter is a character worth rooting for, and we will be hearing much more from Joe Clifford. Highly recommended."
– Sheldon Siegel, New York Times best-selling author of the Mike Daley/Rosie Fernandez novels.
"In LAMENTATION, Joe Clifford displays the same muscular prose, unsparing insight and generous heart he exhibited in his stunning debut, JUNKIE LOVE. This tale of small-town secrets and the troubled, unfathomable, unbreakable bond of brothers reminded me of Scott Smith's A SIMPLE PLAN, high praise. Joe Clifford is a talent to be recognized, and I predict readers will remember his name for a long time."
--David Corbett, award-winning author of THE ART OF CHARACTER
"LAMENTATION is a noir saga of the America that isn't in TV commercials, wrenching, yet somehow infused with an uplifting spirit of a brother's love and redemption. Don't try to put this book in a genre; put in the hands of someone who wants to know what's going on. Original, insightful, energetic, an intriguing examination of small-town, modern lives and perils."
—James Grady, SIX DAYS OF THE CONDOR
About the Author...
Since getting off of the streets, where he spent most of the 1990's, Joe Clifford has made writing his life. He is a "rock 'n' roll" writer who comes from a cutting-edge background and has successfully transitioned to the mainstream, which allows him to keep afloat in both worlds.
Clifford is the acquisitions editor for Gutter Books and managing editor of The Flash Fiction Offensive. He is also the producer of Lip Service West, a "gritty, real, raw" reading series in Oakland, California, and the author of three books: CHOICE CUTS, WAKE THE UNDERTAKER, and JUNKIE LOVE. His popular blog, "Candy and Cigarettes," provides him with a strong link to his fans.
Clifford lives in California with his wife, Justine, and their son.
LAMENTATION is distributed by Midpoint Trade Books, Ingram, Baker & Taylor, OverDrive, Bookazine, and all other better literary distributors.