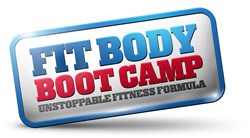 We really like all the friendly people that attend and encourage us and we also like the very motivating trainers who always seem to know just when to push us - Deb and Scott Meyer
La Mesa, CA (PRWEB) August 15, 2013
Fit Body Boot Camp owner and La Mesa personal trainer, JJ Brawley, announced today that he would be hosting a Client Appreciation Party in order to celebrate the Grand Re-Opening and Expansion of his La Mesa boot camp location. Starting on August 29th, 2013, La Mesa Fit Body Boot Camp will be officially open to the public.
The Client Appreciation Party, which is open to all past and present members, will be held on Saturday August 24th, 2013 from 7:00pm to 9:00pm and then stay open from 9:00pm on for an after hours "Dance Jam". The after hours "Dance Jam" welcomes all members of the community to participate in the evening celebration for a $10 donation, proceeds of which will go to support feeding the hungry.
Owner and operator of the La Mesa Fit Body Boot Camp, fitness expert Brawley, says he's excited about the expansion because he believes the new facility is better and roomier for his boot camp members to continue getting the results they deserve in comfort and style.
He explains, "We moved because of our growing client base and the fact that we started out as a partnership with a Karate Studio. They had all evening session times and we had all the morning times. When the partnership ended we took over the evening session times and soon thereafter our membership grew to the point that the tiny 1,000 sq ft workout space was simply too crowded. So, we expanded into the next door space and now we offer a roomier gym, more session times and a cleaner, better organized workout space."
Long term members of the La Mesa boot camp, Deb and Scott Meyer, are also excited about the Grand Re-Opening and expansion of the fitness facility, " We really enjoy La Mesa Fit Body Boot Camp. We like the new, bigger space and the new padded floors that make exercise easier on our joints. Plus, we really like all the friendly people that attend and encourage us and we also like the very motivating trainers who always seem to know just when to push us."
About Fit Body Boot Camp La Mesa
La Mesa Fit Body Boot Camp is a part of the world's fastest growing fitness boot camp franchise family Fit Body Boot Camp. Owned and operated by the top fitness expert and personal trainer in La Mesa, JJ Brawley, the La Mesa Fit Body Boot Camp is a results driven and energetic fitness and fat loss workout program that includes motivation, accountability and dynamic resistance training; all designed to get its members the body that they want in a safe, fun and non-intimidating atmosphere. To find out more about the La Mesa Fit Body Boot Camp, please visit http://www.LaMesaFitBodyBootCamp.com or contact JJ Brawley directly at info(at)lamesafitbodybootcamp(dot)com and 619-800-3480