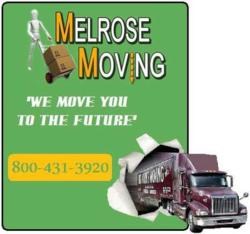 (PRWEB) August 13, 2013
Los Angeles moving tips are now provided in a blog from Melrose Moving. Clips include:
Make a list of everything you need to do before, during and after the move. For example, make a list of all the places you need to call to inform them of your new address: credit card companies, phone/Internet companies, cable or satellite companies, the human resource department at your work, and/ or your child's school. You will want to update your address on magazine and newspaper subscriptions.
Make sure to turn on utilities in time for your move-in date. Moving to a new location can mean you will have to set up new utility accounts if your current suppliers do not provide service in that area.
Next, you will want to pick among the moving companies Los Angeles to move you. There are many options, and you need to take your time to pick the best one for you. Ask around for referrals from your neighbors, friends, and colleagues. Read online reviews, and ask detailed questions when you're speaking to a representative from a moving company. Are they licensed and insured? Are there hidden fees?
Melrose Moving Company is a Los Angeles-based residential and commercial moving company. Originally established in 1999, and has been so popular that the owner started various other moving companies, such as 1 Los Angeles Movers, Movers Los Angeles, and Los Angeles Commercial Movers, all of which are operated by Melrose Moving. The moving company is licensed by the Public Utility Commission (PUC), and has an A rating with the Better Business Bureau (BBB). Melrose Moving accepts cash, checks, credit cards, and Paypal.
For more information, click on http://www.melrosemoving.com . Call now: 1.800.431.3920.