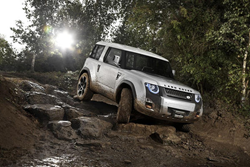 New sources of luxury SUV parts and accessories are now tapped by our company to acquire the best inventory that can be marketed to our customers
Nashville, TN (PRWEB) April 18, 2014
The Discovery II series built and manufactured by Land Rover is now supported for complete used motors at the Got Engines company. An acquisition of 2003 Land Rover Discovery used engines has been completed and these editions are sale priced at http://www.gotengines.com.
These editions include the 4.6 V8 that was introduced after the long issuance of 4.0 units in the U.S. versions. To help consumers ensure compatibility with installations, the Discovery II units now for sale are fully compatible with the four and five-speed transmissions used in the 2003 series.
"New sources of luxury SUV parts and accessories are now tapped by our company to acquire the best inventory that can be marketed to our customers," said one GotEngines.com company source.
One advantage to the new inclusion of the luxury SUV motors division online is the extended scope of warranty policies that are offered. Consumers who decide to purchase the in stock units are automatically qualified to receive the extended protection without paying extra money for a third party warranty.
"The motors that are being marketed through our portal this year are opening up better protection plans to purchasers as a display of good faith for choosing our company as a supplier," the source added.
The Got Engines company is expected to introduce a more enhanced way to search its marketed inventory later this year. The current incarnation of its warehouse finder platform is available for public access on the homepage. The customer support is still provided by toll-free phone at 1-866-320-1065.
About GotEngines.com
The GotEngines.com company is one of the luxury engine resources that American purchasers are using to produce the total costs of purchasing auto parts on the Internet. This company has built a respected inventory and price structure within the U.S. The GotEngines.com website remains a complete source that is delivering information about warranties, same day shipments and all motors available through the company warehouse. Customer service agents are currently positioned to provide support through the installed toll-free company phone call center in place for this year.