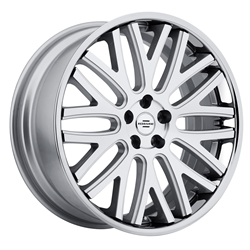 Few vehicles offer such a potent combination of ruggedness and upscale luxury. That's inspired us to create a family of Land Rover wheels that offer high performance and high style, precision engineered to ensure the highest level of compatibility
Huntington Beach, CA (PRWEB) December 12, 2014
Redbourne Wheels, makers exclusively of high quality replacement wheels for Land Rover and Range Rover luxury SUVs, has added a entirely new model to its 2015 product lineup. Now Land Rover and Range Rover owners have more custom hardened alloy wheel upgrades to choose from with the introduction of the Hampshire model.
"Few vehicles offer such a potent combination of ruggedness and upscale luxury. That's inspired us to create a family of Land Rover wheels and Range Rover wheels that offer high performance and high style, precision engineered to ensure the highest level of compatibility," pointed out Redbourne President Terrence Scheckter. "These are unique vehicles that require wheels of high load carrying capacity, able to withstand extreme vehicle demands. We've engineered Redbourne wheels to meet or exceed all that is required of them," Scheckter added.
The new Hampshire custom Land Rover wheels are exquisitely designed to complement the distinctive look of Land Rovers and Range Rovers. It is a multi-piece wheel, with a cast mesh latticework hub and spoke system fusion welded to a lightweight forged outer barrel. This updated take on the classic mesh concept is available in three finishes, matte black with a gloss black lip, gloss black with a bright machined face and a gloss black lip and in silver with a machined face and a chrome lip. The wheel comes in fitments to precisely match the specifications of Land Rover Discovery II, LR3, LR3 SE, LR3 HSE, Range Rover Sport HSE, Range Rover Sport Supercharged, Range Rover HSE and the Range Rover Supercharged vehicles. The Hampshire is available in both 20-inch and 22-inch diameters, both 9.5 inches wide.
The Hampshire joins Redbourne's other five models, including the Nottingham, a one-piece wheel with five brawny spokes available in bright chrome, hyper silver and matte black; the classic Dominus with 15 narrow gauge spokes, available in matte black and in gloss black, silver or gunmetal with a mirror cut face; the Manor with its ten paired spokes accented by a keyhole cutout where each spoke meets the lip, available in gloss black, matte black with a bright machined face and silver with a mirror cut face; the Marques, featuring ten paired spokes and highlighted at the perimeter with 38 aircraft fasteners, available in classic chrome, gloss black with a mirror cut lip, gunmetal with a mirror cut face and in gloss black with a mirror cut face and a black lip; the Saxon, clean, straightforward five spoke wheel with a subtle recess around the bolt ring, in chrome, silver and matte black.
All Redbourne wheels are engineered to fit precisely over the center flange of the brake rotor, ensuring that the wheel is concentric with the wheel bearings for a truer, better balanced wheel/tire assembly and a smoother ride. They are compatible with the Land Rover tire pressure monitoring system and accept the manufacturer's center cap with the LR logo.
The Redbourne website at redbournewheels.com provides a helpful wheel "Configurator", which cleverly enables owners to preview each of the models and different finishes of Redbourne Land Rover wheels on an image of their year, model and color Land Rover. The site also provides a gallery of photos submitted by owners, providing additional opportunities to see how each Redbourne wheel looks on different model Land Rovers and Range Rovers.
Redbourne Land Rover custom wheels are widely available at better tire stores and aftermarket wheel retailers nationwide. Shoppers can find a Redbourne dealer by zip code on the Redbourne website or by phoning 1-800-479-9723.