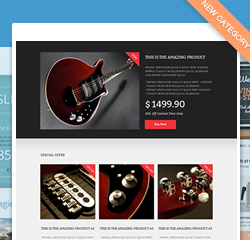 Lander now offers an array of new E-Commerce-friendly landing page templates optimized specifically to help online store owners enjoy higher conversion rates.
San Antonio, TX (PRWEB) November 19, 2013
In the competitive world of online marketing, conversion is crucial. Landing pages can help make or can break the bottom-line results of an E-Commerce campaign.
A great landing page can help a company thrive. Poorly set up landing pages can put an online marketer out of business. No "link" in the E-Commerce "chain" is more critical to the online store owner than the landing page.
The E-Commerce sales process is fragile, and sales can easily be lost just before checkout. The right landing page platform, one which is specifically designed for E-Commerce success, one which offers advanced A/B testing capabilities (including testing of call-to-action elements like buttons – color, text, etc.), and one which tracks visitors' actions can help online marketers refine their conversion strategies and experience greater and greater results.
Lander offers online marketers just such a program. The company produces an easy-to-use landing page platform noted for its simple, uncluttered user interface that consistently delivers a remarkably enjoyable user experience.
Exciting News For Online Store Owners
Lander's landing page templates now include integration with PayPal. This gives online shoppers an easy, quick, convenient way to pay at checkout, meaning online marketers can win more customers and enjoy increased revenue.
In addition to the new PayPal integration feature, Lander now offers an array of new E-Commerce-friendly landing page templates optimized specifically to help online store owners enjoy higher conversion rates: i.e. – more sales.
The list of features that come standard with these new E-Commerce landing page templates includes
>Three new buttons: "Buy Now", "Add to Cart" and "Show My Cart". These buttons can be tested and customized for increased conversion optimization
>A customizable PayPal button that allows for changes to size, color and content (Using Lander's A/B testing capabilities to test this can be a very effective way to raise conversion rates)
>Setup that's easy and quick: two simple steps.
>A lead capture form to help marketers grow their email list – a valuable business building tool
>Spectacular graphics to help attract landing page visitors' attention and interest
>Google Maps integration – an extremely valuable feature for retail businesses serving a local market
In keeping with Lander's rock-solid commitment to offer its clients a landing page platform that gives a wonderful user experience, these new E-Commerce templates offer custom layout functionality with an intuitive "drag and drop" editor.
Online store owners who want to try out Lander's new E-Commerce-optimized landing page templates with PayPal integration for no charge can set up a free account here.
If they want to discover more about how Lander's new templates can help them enjoy increased conversions, they can contact Lander today.
About Lander
Developed especially for today's Internet marketer, Lander is the easiest-to-use Landing-Page creation platform and performance marketing web app, enabling even those without IT or design knowledge to produce and manage super-effective PPC, social media and email marketing campaigns.
All assisted by fast and simple real-time A/B testing. Increase your conversions easily with Lander's 3 step process: design, publish and optimize your landing pages in minutes.