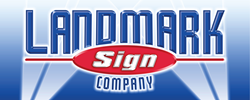 One of St. Louis's most prominent sign companies, Landmark Sign Company, was forced to move to a new location after a microburst damaged their workspace.
St. Louis, MO (PRWEB) April 23, 2015
On April 9, 2015, a sudden storm struck the Chesterfield Valley area of St. Louis, damaging several buildings and flooding roads throughout St. Louis County. Landmark Sign Company was one of a number of businesses that were affected by the wind and rain: the company's facility on Spirit of St. Louis Boulevard was partially destroyed. Fortunately, with the help of its clients, vendors and the local community, Landmark Sign Company was able to return to their full capacity in less than a week.
The National Weather Service has labeled the storm a microburst, a type of meteorological event caused by a small, intense draft of wind descending upon an area. While not usually as severe as a tornado, these storms usually feature strong winds and can be quite damaging. As a result, several streets in Chesterfield Valley are littered with concrete and other debris that appears to have been blown off local buildings, and officials are fielding reports of collapsed walls, damaged roofs and other problems.
Representatives from Landmark Sign Company say that the storm caught them almost completely by surprise.
"One of my employees saw it on the news and went down to the scene and saw that we were in the line of fire, so he called me," said Mike Butler, President of Landmark Sign Company. "We went to assess the damage and emergency personnel were on the scene. We found that it thankfully only hit the back of the warehouse."
The company was fortunate: their production equipment, computers and heavy machinery were largely spared. However, they lost many smaller tools, raw materials and supplies, and the facility itself is in disarray.
"It seemed our shop was the center of the storm," Butler said. "It destroyed most of our warehouse space and part of our production area."
Current reports estimate that it could take thousands of dollars to repair the eight blocks that were impacted by the storm. Despite the challenges, however, Landmark Sign Company was able to quickly move to another location to keep their business going. On April 10, the day after the storm, they found another building less than than a mile away from their original space and began moving in. By April 14, they were back to their normal operations.
The company credits the support of their community and business network for their quick recovery.
"Through the support of our vendors, suppliers, clients, and even strangers, we were able to get back up and running to full capacity in less than a week," said Butler.
At the moment, the company hasn't decided if it should use the current location as a temporary space as it expands and repairs its former home, or move into the new building permanently after making a few upgrades. Whatever choice the company makes, company representatives have assured their clients that they are seamlessly transitioning into their usual operations, meaning that none of their work will be affected by this change.
About Landmark Sign Company:
Landmark Sign Company offers quality sign solutions to companies in the St. Louis area and beyond. They manufacture a wide variety of sign types, including LED message centers, channel letters, banners, window graphics, and more. They advise clients on the appropriate sign type for their business, location and needs. To learn more, visit http://www.landmarksignusa.com or Contact Us.
Landmark Sign Company
landmarksignusa.com
info (@) landmarksignusa (dot) com
636-536-0400
755 Spirit of St. Louis Blvd
St. Louis, MO 63005