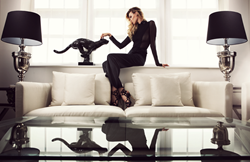 'a model example of chic London living' – Evening Standard
(PRWEB) March 20, 2014
From an uninhabitable and dilapidated Grade II listing to a beautiful and contemporary three bedroom home over five floors, the mews development of Victorian style in Belgravia has been completely reconfigured by renowned developers, Landmass London.
Purchased for close to £7 million by an international buyer, this mews development could easily be this year's Best Residential Property 2014 award winner. The home is considered to be the most expensive of its kind in London in the last 18 months; with house prices on the rice, nearly 7.5% in 2013, this could very likely be a fantastic investment by the new owner.
Offering a gorgeous roof terrace facing a southerly direction, amazing use of space planning to maximise every usable space possible, and a huge introduction of natural light throughout, this home is an absolute gem. The Sunday Times and Evening Standard tout the mews development as "extravagant" and "a model example of chic London living."
In addition, the home adds serious "wow factor" with the retractable glass ceiling above part of the reception room and glass flooring below which allows the natural light to reach the lower ground floor. Instead of that lower ground floor feeling like a typical lower level space, this one has ceiling heights set at 3.2 metres, giving the feeling of a full size upper level floor.
All across London, especially in the Prime Central area, these mews developments are being gobbled up very quickly. Much of the reason for such a run on one particular type of property is the uniquely British feel of these homes, showing on the outside some of the old world charm while inside they can be fitted with all the modern luxuries anyone could ask for. In addition to the look and feel, many of them are located in some of the most historic areas of London such as Knightsbridge, which required the rules of conservation be followed throughout the area.
Landmass Managing Director, Alan Waxman stated these homes are popular as well because "you can also lock up and leave the house as you want with no huge annual service charge." Landmass London has been remodelling homes such as this in London for over fifteen years, and according to Waxman speaking about rebuilding another exciting mews development, "at the time it was just a hole in the ground with four walls around it. We'd dismantled the interior of the house and dug down 3.4 metres. No one has done this in a London mews before." According to the Telegraph, the nine-metre waterfall tumbling to the bottom of the basement is "an underground paradise."
By this thinking, this gorgeous London mews development that warranted such a massive price tag is not only beautiful to look at on the outside with the old world charm, chic and new on the inside, but also is a real trailblazer for other mews developments to follow.