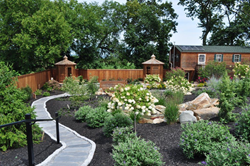 "The Lord is my Shepherd. I shall not want." - Psalm 23
Leola, PA (PRWEB) July 21, 2014
"The Lord is my Shepherd. I shall not want." This quote from Psalm 23—one of the most memorized passages in the Bible—tells a story of our Shepherd Christ caring for his flock. And now the words come to life thanks to Peaceful Healing Journey, a division of Living Waters Ministry, and EWBN who organized and landscaped a garden interpreting this Psalm into a meditation and healing garden.
The garden is beautifully organized with a path guided by passages of Psalm 23 and other bible verses. Reuben Stoltzfus, owner of EWBN has more than 30 years of specialized landscaping experience and you can see his talent at work through the flowers, fountains, trees, and bushes placed throughout the garden. There are six quiet rooms where you can sit and reflect, meet with God and begin or continue your journey towards spiritual, emotional, or physical healing.
The garden is located at 620 N. Shirk Rd, New Holland, PA 17557 and is free to tour operating from 7am to 10pm every day.
This video will showcase the work of Eagle Wings Business Network on the Psalm 23 Garden: http://www.youtube.com/watch?v=36sDkK2FE1c.
For more information please visit: ewbn.net or peacefulhealingjourney.org
Media Contact
Reuben Stoltzfus
info(at)ewbn(dot)net
717-556-0741