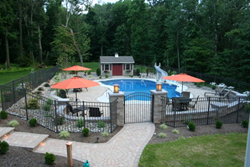 Mohnton, PA (PRWEB) October 31, 2016
Everyone likes a warm and inviting home to come to after a long day at work. How much better to enjoy a backyard patio space surrounded by beautiful landscaping and featuring a fire pit or backyard fireplace? For those looking for a Landscaper in Lancaster, Chester, Berks or Delaware County, PA, Willow Gates Landscaping is in the business of making your return from work something to look forward to. And now they have relaunched a website to features more of their services and reach a broader audience.
Based in Mohton, PA, Willow Gates Landscaping has been serving the landscaping and hardscaping needs of homeowners and businesses in Berks and the surrounding counties since 2005. Even before this, Jeremy, owner and manager of Willow Gates Landscaping was involved with a nursery run by his mother and later with a Landscaper in Lancaster, PA.
The website relaunch is an effort to focus on more quality content online including photos, video, blog posts and more. E-Impact Marketing of Lancaster, PA was contracted to do the relaunch and move forward into a heavy focus on Search Engine Optimization on the website.
Years of landscaping experience have set Willow Gates Landscaping in a unique position to provide both creative designs and quality services. Landscaping has been the crux of Willow Gates Landscaping over the past 10+ years. They focus on creating landscape designs that include low maintenance plants, year round color and refuge for birds and pollinators.
Combined with landscaping, Willow Gates is a certified installer of hardscaping. Many landscaping projects for new or existing homes include both landscaping and hardscaping and Willow Gates works with each client to get the perfect mix of both. In addition, storm and water management is incorporated into the design to create attractive water gardens, permeable driveways or walk ways and more.
From initial design to a completed landscape or hardscape projects, Willow Gates Landscaping offers the full package including hardscape patios, landscape lighting, hardscape driveways, permeable driveways and full landscaping packages all designed to reflect the needs and desires of their customers. And now the new website will features more of their projects for more folks seeking a refuge at home.