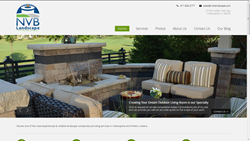 We are at present the most sought after landscaping service provider in Indianapolis and its vicinity. The reasons seem obvious and clear.
Indianapolis, IN (PRWEB) July 08, 2014
When it comes to offering quality landscaping services, NVB Landscape enjoys a decent reputation. Over the years, the landscaping service provider has served the landscaping needs and aspirations of people in and around the state of Indiana with great amount of passion and zeal. The company offers a wide array of services that include paving, maintenance and repair, creating playground and rubber mulching – all at the lowest possible prices. It has a highly endowed and proficient workforce equipped with innovative equipment that facilitate the landscaping process to finesse. NVB Landscape offers customized solutions to meet the myriad requirements and specifications of its clients.
A senior official at the NVB Landscape in a recent interview had this to say, "We at present are the most sought after landscaping service provider in Indianapolis. The reasons seem obvious and clear. Whether it is a garden to be updated, or a major project that requires great amount of workforce and equipment to be implemented, we possess the desired wherewithal to pull it off. For us at NVB Landscape, customer satisfaction is of paramount concern and we do every effort on our part to ensure that the client gets every bit of his penny."
NVB Landscape considers its workforce as its most valued asset and offer them an environment that enable them to come up with services that supersede the expectations of the clients. The workforce at the disposal of the landscaping service provider is well versed with the nuances of landscaping and is trained to offer the best services to its clients consistently.
"Quality is our hallmark and we never ever compromise on the quality aspect of our services. It necessitates us to adopt a methodical and maverick approach towards accomplishing landscaping tasks. The professionals chalk out an action plan only after visiting the site. They schedule the landscaping service quiet efficiently and strictly adhere to the specifications provided by the clients. Moreover, they do not leave the place until the place is cleaned to a nicety" further added the official.
In addition to this, NVB Landscape complies with a policy of maintaining complete transparency with its clients. They are in regular communication with their clients and keep them informed with the developments. They even keep in touch with their esteemed clients even after the landscaping is done. All the above-mentioned attributes make NVB Landscape the most revered and trustworthy landscaping service company in Indianapolis, offering a complete range of landscaping services. The company also provides high quality rubber mulch for landscaping and playground at reasonable prices.
About NVB Landscape:
Indiana based NVB Landscape has emerged as a reliable and reputable name in its segment. Ever since it became operational, the landscaping service provider has done a remarkable job in providing superior yet cost effective landscaping and other related services to its humongous clientele based in and around Indiana. Apart from landscaping, NVB Landscape offers other services like paving, maintenance and repair, creating playground and rubber mulching. Those who are looking for landscapers in Fishers and other areas of Indianapolis can contact the folks working at the company.
Contact Details
NVB Landscape
10725 Hidden Oak Way
Indianapolis, IN 46236
Phone no. 317 826 2777
E-mail sales@nvblandscape.com
Website: http://www.nvblandscape.com