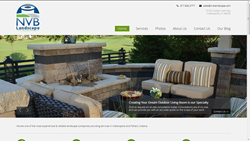 Our entire team strives to provide complete satisfaction to all our clients.
Indianapolis, IN (PRWEB) June 18, 2014
Located in Indianapolis, NVB Landscape leads the industry when it comes to providing impeccable landscaping services. The company has a wide assortment of landscaping services to offer to its clients who are looking to beautify their outdoor living areas. NVB Landscape has years of experience in the industry that shows up well in their services. Clients can count on the NVB Landscape team to avail varied services, including landscaping, maintenance and repair, playgrounds and rubber mulch at affordable prices.
One of the team members said in an interview, "Our entire team strives to provide complete satisfaction to all our clients. Their contentment encourages us to do even better. We are a trusted name in the landscaping industry and people can count on us to get reliable yet affordable landscaping services in and around Indiana. Our aim is to provide extremely creative and light on pocket services, so that every client of ours can make their outdoor living areas tidy and beautiful. We ensure that our clients derive maximum satisfaction from every single penny they spend."
The company provides services like installation of paver stones, including retaining walls, fire pits and patios. The other services that the company provides entail repair and sealing of the paver stones and the maintenance activities like mulching and pruning. A backyard playground is an important aspect of any house with children, and NVB Landscape installs a number of exquisite backyard playgrounds for its clients every year. The clients hiring the company for aforementioned activities receive outstanding landscaping services that beautify their outdoor living areas and that too at reasonable prices.
The team member further added, "We make sure that we provide the best possible value for every penny spent by our clients. Our landscapers have years of experience and expertise in using the right stone according to the nature of the project. This is what makes us a reliable landscape service provider. Moreover, our on-site inspection gives us an opportunity to understand the nature of the land better and accordingly design its landscaping. We offer no-cost on-site consultations to our clients that makes it convenient for both the parties (we and our clients) to know each other well, as we get to know the scope of the land and they get to know about our capabilities before actually starting the work."
The company provides highly customized landscaping services in Indianapolis and the surrounding areas. The clients can completely rely on NVB Landscape to change their boring outdoor settings and create altogether new surroundings. NVB Landscape is one of the leading landscape companies in Indianapolis. The company offers one-hour no-cost on-site consultation to its clients wherein the site inspectors evaluate the site in detail and discuss requirements with clients to take their suggestions, such as how do they want to go about the design of the outside area.
About NVB Landscape:
NVB Landscape, located in Indianapolis in the US state of Indiana, is a company supported by a highly professional team of landscapers, who beautify the outside living area to perfection. The landscaping service company strives to provide high in class and light on pocket landscaping services to its clients. Those who are searching for a reliable landscaping company in Fishers can rely on the services offered by NVB Landscape.
Contact details:
10725 Hidden Oak Way
Indianapolis, IN 46236
Phone: 317 682 8873
Mail: sales(at)nvblandscape(dot)com
Website: http://www.nvblandscape.com/