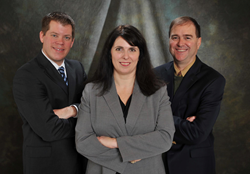 It's a better and safer neighborhood than our old location.
Vancouver WA (PRWEB) February 03, 2015
Langsdorf, Ferguson & Posner, PLLC is a group of attorneys in Vancouver WA serving clients with many different legal issues. From personal injury cases, to family law, to criminal defense, real estate, estate planning and more, LFP Law Firm has attorneys who cover all these areas.
Last month the firm relocated to a facility about a half mile northeast of their old location. Once located at 415 E 17th St in Vancouver, the attorneys can now be found at 2220 H St, Vancouver WA, 98663.
The attorneys decided to move for a few different reasons.
Dean Kirk Langsdorf, one of the partners at the law firm, said the group outgrew their old space. "At the new spot we are all on one level, and the offices are newer and better for all the partners."
The lawyers also mentioned that the new space is compliant with the Americans with Disabilities Act, meaning they can now better serve all potential clients, even those with special mobility needs.
If there is a downside to the move, the lawyers say it is that the facility is tucked away in a neighborhood.
"It is a better and safer neighborhood than our old location," Langsdorf says, "so clients won't mind finding us in the new neighborhood."
The new facility is only a three minute drive away from the old space, so returning clients do not have to find an entirely new route to return to meet with their representation.
Langsdorf earned admission to the Washington State Bar Association in 1994 and now focuses solely on family law cases.
The other partners at the firm are Lori Ann Ferguson, and Quinn Harrison Posner.
Ferguson earned her admission to the WSBA in 1999. Her practice areas include family law, guardianship, estate planning, special needs and Medicaid planning, and probate and estate administration.
Posner is licensed to practice in both Washington and Oregon. He earned admission to the Bar in Washington in 2001, and in Oregon in 2005. Posner's practice areas include personal injury, criminal defense, real estate, and civil litigation.
About Langsdorf, Ferguson & Posner, PLLC
The firm says they are unique because of their experience, responsiveness, and their empathy.
They provide complimentary consultations, and say the best way to reach a successful resolution is to have a complete understanding of the client's unique situation, and develop the best solution tailored to each particular concern.
The attorneys are also very active in their local community. They are involved in organizations such as local youth soccer, Boy Scouts of America, Southwest Washington Independent Forward Thrust, Clark County Rental Association, Clark County Bar Association Volunteer Lawyers Project, Northwest Justice Project and more.
The partners can all be reached at (360) 906-1164, or by visiting their website.