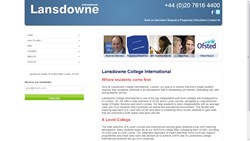 With a long experience in education, Lansdowne offers quality training for entry in medical disciplines.
London, UK (PRWEB) September 27, 2013
A-Level students looking to make a career in Medicine, Veterinary Science or Dentistry can now get enrolled for the medic programme of Lansdowne College. Regarded among the top sixth form colleges in London, the medic programme prepares students to perform to their potential in BMAT/UKCAT entrance tests, which are now mandatory to get into medical schools.
Placing emphasis on the examination technique, the tutors provide in-depth analysis of past papers and how they should be tackled. Regular examination practice and mock examinations help the student get familiar with the examination process, to help perform well when they will actually enter the examination hall. Through preparation, they will be well-versed with mark schemes to stand them in good stead.
With a long experience in education, Lansdowne offers quality training for entry in medical disciplines. The college staff has extensive experience of dealing with the university application procedure, which enables them to support the student with course and university choices. They also help them prepare the personal statement which is so important in the procedure. They help make sure that the application is made in time along with references.
The college requires students to attend at least one mock interview with The Director of Medical Programmes and a senior tutor. The teachers are dedicated and committed to student success, which shows in the colleges examination results. Lansdowne College appoints teachers not just for their professional expertise but also for their ability to relate to young people. They have a crucial ability to deal with the students and provide them the needed support for the entrance exams.
The track record of Lansdowne College has put it at the forefront of productive and accessible learning for complete term exams, A-Level and GCSE retakes, and the medical preparatory courses. To get more info on A-Level course London, you may talk to senior staff at the college. To learn more about Lansdowne, considered a leading A-level college in London, visit their website.
About Lansdowne College
Lansdowne College in London offers a range of A Level as well as GCSE courses. Counted among the top London colleges, it is also preferred by students for A-Level retakes. The college provides the students a robust academic foundation by focussing on the demands of examination systems. The college is simply ahead of other colleges in London when it comes to quality of education.
Contact Information
Lansdowne College
40-44 Bark Place
London
W2 4AT
Website: http://www.lansdownecollegeinternational.com/