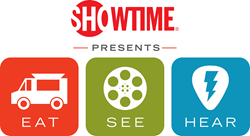 Buying your tickets in advance is the way to go, because you will automatically be entered to win a R/T flight to Auckland, courtesy of Air New Zealand
Los Angeles, California (PRWEB) July 14, 2015
LA outdoor movie event series Eat|See|Hear will be in Griffith Park on Saturday, July 18, to showcase the 1986 slapstick comedy, ¡Three Amigos!. This event will be held at the South Lawn of the Autry National Center, located at 4700 Western Heritage Way. Showtime is at 8:30 p.m.
¡Three Amigos! stars Steve Martin as "Lucky Day," Chevy Chase as "Dusty Bottoms" and Martin Short as "Ned Nederlander"—silent movie cowboy actors who have just gotten the axe from their Hollywood studio. Just when they think their careers are over, they are invited by a woman named Carmen (Patrice Martinez) to travel to her village in Mexico to play bandit fighter roles. After the three actors arrive in the village, they quickly realize they have not been enlisted to perform their singing cowboy routine, as they had originally thought. Carmen wants the three cowboys to be real bandit fighters, and boot out the tyrant El Guapo (Alfonso Arau). The "three amigos" are in way over their heads, which leads to one hilarious scenario after another.
Doors open at 5:30 p.m. to allow movie goers plenty of time to get settled before the movie starts. Since this venue is a grassy lawn, movie goers should bring pillows, cushions, blankets or low-back beach chairs to sit on during the show.
At 6:45 pm, Echo Park-based musician, Paul Bergmann, will take the stage, along with LA rock band, Young Creatures. Bergmann's style has been referred to "a fusion Bob Dylan and Johnny Cash." He has recently partnered with Fairfax Recordings, to release two singles, "Old Dream" and "Summer's End." and very soon, a full LP. In September 2014, Young Creatures released their debut album, Fear All Things, which they describe as a "bold venture into dark psychedelic territory."
Plenty of food trucks will be on hand during the evening, including Boba Ni Taco, Brasil Kiss, Burnt to a Crisp, Coolhaus, Germany's Famous Bratwurst, LuckDish Curry, Mandoline Grill, Me So Hungry Street Kitchen, My Delight Cupcakery, Vizzi Truck, and more. These vendors will be open for business at 5:30 p.m.
Movie patrons can park for free in the Los Angeles Zoo parking lot, which is across the street from the Autry. Please enter through the main entrance adjacent to the Autry Museum building on the event lawn. For people who may be biking in, there are racks for parking bicycles for free.
Purchase tickets in advance online. General admission tickets are $12 each for adults ($14 at the door), $8 for children under 12 years old, and free for children 5 and under.
"Buying your tickets in advance is the way to go, because you will automatically be entered to win a R/T flight to Auckland, courtesy of Air New Zealand," says co-owner of Eat|See|Hear Sharon Sperber.
In addition to general admission tickets, a limited number of "Air New Zealand Fashionably Late" passes are available for purchase in advance at the Eventbrite website, granting seating in a reserved area, regardless of arrival time.
For further information about Eat|See|Hear's ¡Three Amigos! event, visit eatseehear.com. Don't miss your chance to see this hilarious comedy on the Eat|See|Hear big screen!
About Eat|See|Hear
Voted "Best Outdoor Movie Series" by Los Angeles Magazine in 2014, the Eat|See|Hear outdoor movie, food truck and live music series brings an evening of fun to Los Angeles-area venues each summer. The fourth annual series is presented by SHOWTIME NETWORKS, featuring up-and-coming bands from the local music scene, the hottest food trucks and the largest inflatable movie screen on the west coast with the highest quality HD-projection with a 52-foot wide image and professional sound. Eat|See|Hear promises an enjoyable movie-going experience for everyone, including dogs. Each event and is produced by LA-based Trailhead Marketing, Inc. For more information visit http://eatseehear.com.